Eye For Film >> Movies >> The Odd-Job Men (2021) Film Review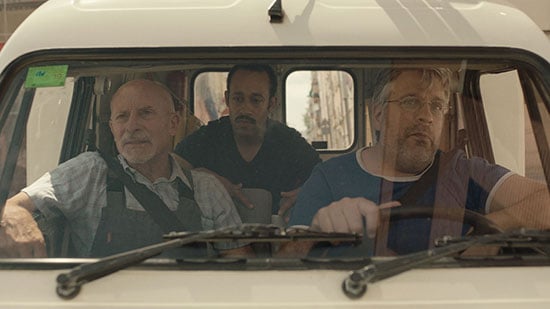 There have been an increasing number of docufiction hybrids gracing our screens in recent years, including Bloody Nose, Empty Pockets, which raised an eyebrow or two when it was included in Sundance's documentary section in 2020. Spanish director Neus Ballús is an old hand at working the two elements together, kicking off her feature career in 2013 with The Plague - a film about life on the fringes of Spanish society that was the culmination of four years work with her "cast", who all play versions of themselves.
The same modus operandi has been employed for this quirky slice-of-life comedy, with the director collaborating with three real-life plumbers - Valero, Moha and Pep - for two years and working on their improvisational skills in order to bring this story to the screen. She certainly can't be faulted for effort and, as is almost always the case with this sort of casting, the essential 'truth' of these non-professionals is visible beneath the constructed story. Set across a week, the film sees Moroccan migrant Moha become the latest member of the Instalaciones Losilla plumbing team, not that chief plumber Valero is very happy about it, but then, the middle-aged Valero isn't happy about many things, including his middle-aged spread.

His wife Pacqui is insistent they try out new-hire Moha as a replacement for Pep who is on the verge of retirement. Across the week, the director explores how prejudice and prejudgment can give way to a more considered understanding, even in the most unlikely of circumstances. The film unfolds in moments that also paint a broader picture of the Barcelona suburbs. Despite Valero being convinced that nobody will like Moha because of his migrant status, in fact the customers warm to his calm presence, a nice set-up that offers some nicely worked moments of comedy - an elderly men's health regime here, an unexpected photoshoot there - while also feeding Valero's sense of unhappiness.
The older man is a cloud of passive aggression sitting between Pep and Moha, his attitude less borne out of true prejudice regarding 'the other' in the form of Moha than out of fear concerning his own ageing body and changing circumstances. Pep is a reminder that all things come to an end of of what lies in front of him, while the younger Moha, with his trim physique and good looks, a reminder of what Valero can see in the rear-view mirror.
Ballús gently works her themes, showing not just the men's interactions in the day - full of physical and psychological crossed wires - but also their home life. Valero may be walking about like a small black cloud but there's a warmth from his family, meanwhile we see that Moha also faces his own tensions, with housemates who mock his desire to learn Catalan and fit in. Framed largely from a polite distance, that adds to the documentary feel, there are also nice snippets of the neighbourhood where the men are working included that give a sense of the community's wider fabric. Ballús' idea that we all have to rub along together in the end no matter what our starting point may not be particularly new but she has an eye for life's little absurdities and this is an amiable and humanistic exploration of the topic.
Reviewed on: 30 Sep 2021
Share this with others on...