Eye For Film >> Movies >> The Miracle Maker (2000) Film Review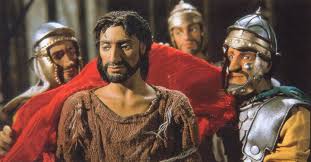 It takes a bit of time getting used to the animation, as if Jesus has just walked off the set of Thunderbirds. Going back to jerky models with fixed expressions isn't easy after the likes of Toy Story and Tarzan.
The greatest story ever told isn't high on humour. It has a campy Herod, a loony Magdalene, a sleek Pilot and a swarthy Judas. It also has The Man himself, who comes across as a tough-minded, intelligent faith healer, with a firm grasp on the political situation.

The product of BBC Wales and some enthusiastic Russian animators, The Miracle Maker has an interesting script by Murray Watts, a wonderful sense of place and an imaginative use of flashbacks, where a painterly technique emulates memory.
What lifts the film above the level of a nativity tableau is the impressive cast of voice-overs. Names such as Ralph Fiennes, Julie Christie, William Hurt, Ian Holm, Miranda Richardson, Ken Stott and Richard E Grant are stellar enough, but what they give to their vocal performances is beyond the call of duty. Like Jesus in the tomb of Lazarus, they bring these models to life.
Reviewed on: 19 Jan 2001
Share this with others on...