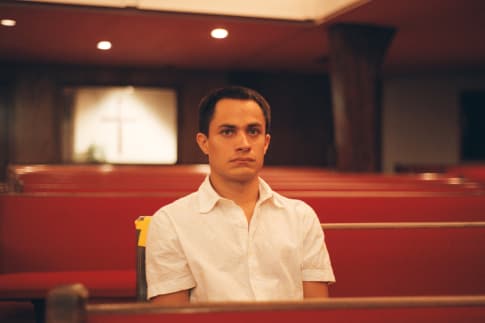 Sometimes the greatest horrors emerge from gradual realisation. Scriptwriter Milo Addica and co-writer/director James Marsh grasp this concept from the get go and allow a creeping air of menace to settle over their film like a mustard gas cloud.
The King of the title is Elvis (Gael Garcia Bernal). Returning to civilian life after a stint in the Navy, he catches a quickie with a pro before going off in search of his family. Dad (William Hurt) is a minister at a charismatic church, but before he was born-again, Elvis was born for real, son to one of daddy's distinctly ungodly visits to a hooker.

Dad is, understandably, not exactly giving thanks for the return of his prodigal, since he now has a son and a daughter and a castle of his own. Elvis, however, is unperturbed and soon embarks on a dangerous and deeply disturbing relationship with his own half-sister, which puts him on a collision course with his deeply religious half-bro and threatens to bring tragedy on them all.
The degree to which this film is unsettling is testimony to the strength of the acting and direction. Bernal is only a little guy, but he has the charisma of a man of 6ft tall. He is one of the few young male actors today who rely on understatement to make their point. Is he out for revenge or acceptance, a prodigal or a devil? Bernal imbues his every move with conflict and ambiguity, which in turn makes us unsure of his motives – critical to our enjoyment of the movie.
Hurt, too, as the sinner made good, is ideally cast. He never overplays his part and, cleverly, the Church is portrayed sympathetically. Marsh's father is a born-again Christian, which clearly gave him an insight into that world and he has put it to good use here. By refusing to engage in a full on paternal attack, the end result is all the more compelling.
Pell James is also wonderful as Malerie, a girl in love with Elvis, while totally unaware she is related to him, and Paul Dano (last seen playing it for laughs in Little Miss Sunshine) is perfect as the creationist son, torn between sibling rivalry and the urge to protect his own.
By tamping down on any signs of melodrama, Marsh uses skills honed over a decade as a documentary maker (The Team, Wisconsin Death Trip) to keep it real – helped by some lovely cinematography from Eigyl Bryld – saying more with hint and insinuation than full-blown shots would achieve. While slow moving, The King has an almost Shakespearean sweep, as the tragedy, in its truest sense, unfolds. And, as the film shifts gear from slightly shady to downright sinister, you feel the flutter of that most chilling sort of horror – the sort that could really happen to anyone.
Reviewed on: 07 Dec 2006
Share this with others on...