Eye For Film >> Movies >> The Justice Of Bunny King (2021) Film Review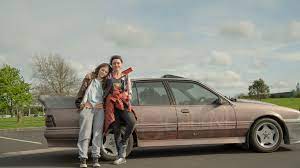 Featuring a rich and deep central performance from Essie Davis - who knows this is an emotional marathon not a sprint - and a narrative from Baby Done scribe Sophie Henderson that unfolds in unexpected ways, The Justice Of Bunny King sees director Gaysorn Thavat come full circle back to film (where she started as a focus puller), from TV with this thoughtful and moving drama.
Davis is Bunny as a distillation of determination and desperation, a woman who has been forced to the fringes by things largely outside of her control and which are gradually revealed through this well worked character study. She works as "a squeegee bandit", washing car windows with a wide smile and putting the coins in a jar that she keeps in her sister Grace's (Toni Potter) home. The graft doesn't stop when she puts away her water bottle as, with her sis pulling long shifts, Bunny pretty much keeps house for her and is largely treated as a live-in skivvy by her unpleasant brother-in-law Bevan (Errol Shand), who rules the roost.
Her homelessness is made even more barbed by the fact that, until she has a place to call her own, she stands little chance of getting her two children Shannon (Amelie Baynes) and Reuben (Angus Stevens) out of foster care. This doesn't stop her promising Shannon a birthday to remember, a pledge that will lead, by baby steps, to increasingly extreme measures. Complicating matters further, she becomes concerned that all may not be well on the homefront for her niece Tonyah (Thomasin McKenzie) and finds herself taking the teenager under her wing at the same time as trying to stop her own life crumbling beneath her.
Davis captures not just the emotional turbulence of Bunny's life but the sheer physicality of it. Bunny is continually on the go, whether she likes it or not, running on nervous energy and the overwhelming desire to be reunited with her children. Shot with a feel for marginal spaces by Thavat, Henderson - making a big step up in storytelling terms from Baby Done - shows how the system is stacked against the bunnies of this world without labouring the point. This latent prejudice is encapsulated by what happens when Bunny is given a 'work outfit' in order to attend interviews and house viewings and finds herself immediately transformed in the eyes of those she meets. She's still the smart, quick-witted person she was in her squeegee gear but now it seems the world is ready to actually listen to watch she says, if only for a moment.
For a film that has a serious point to make about how hard it is for the marginalised to work their way in from the ege, there's also a surprising amount of humour, much of it stemming from Bevan's ridiculous car, simultaneously souped up and stupid, and from Bunny's ability to find a way to get what she wants even when the odds are stacked against her.
"Twenty-five years and my life is still Trying to get up that great big hill of hope For a Destination," run the lyrics of the 4 Non Blondes' track which bookends the movie, and by the end you'll be willing her to keep on climbing. Bunny is flawed and she knows it but she also refuses to be floored by the world and if there's any justice in the world, Bunny King will go on to reach a wide audience after the film's UK premiere at Edinburgh Film Festival.
Reviewed on: 25 Aug 2021
Share this with others on...