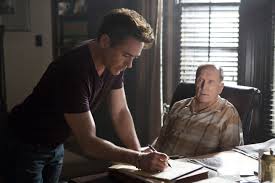 The sense of deja vu is like a suffocating smog and yet it is hard to put a finger on the why, where or what.
This is not Tennessee Williams, neither is it a John Grisham thriller. It belongs in that secret drawer, marked What Daddy Did.

"This family is a fucking Picasso painting," Hank Palmer (Robert Downey Jr) says.
Dysfunctional? Tell me about it!
Daddy (Robert Duvall) has been 42 years on the bench in a small Southern town. They call him The Judge, because that's what he is, an ex-alcoholic with a dead wife and terminal cancer, although no one is supposed to know about that.
"They trust me," the judge says. "They trust the law."
When Hank was a teenager he crashed Daddy's car and his elder brother, destined for a future in pro baseball, suffered crippling injuries.The judge never forgave him and Hank left home and went on to become one of the most successful criminal lawyers in Chicago.
After the judge is accused of killing a man on the highway Hank returns. He wants to defend his father in court. The judge says no. His resentment and bitter memories have never healed.
The film covers all the bases and yet fails to hit a home run. Downey and Duvall are master craftsmen who go through the motions with measured ease and yet the heart of the script is hollow and expectation becomes predictable when it should be shot through with surprise.
Cliches of the prodigal returns variety are here, including the girl who loved him in high school being available as a business woman whose marriage failed.
Will the judge stay true to his principals? Will Hank ignore his wishes and trick the jury into acquitting the old man?
In the end you don't care enough. It's taken too long.
Reviewed on: 16 Oct 2014
Share this with others on...