Eye For Film >> Movies >> The Intern (2015) Film Review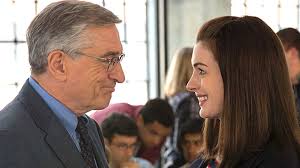 Bobby De N is not a gangster. He's not a comedian either. He likes to push the envelope, try new stuff. Michael Caine in the Batman movies perhaps? Why not?
Ben is Alfred the butler masquerading as a senior cit after 40 years printing phone books. Wow! Interesting, or not?

In the world of feel, you have good, bad and indifferent. This comes under a separate category - embarrassed.
Anne Hathaway looks anorexic which highlights her facial features - mouth, teeth, smile. Emotionally she's all over the place, making her role as the no-rest boss of a successful internet fashion company difficult to take seriously.
Jules (The Hath) favours an open plan office in Brooklyn with a zippedy doodah staff of twentysomething high-fivers. Dress code: whatever. It's all about ideas and taking cool to the next level. She rides a bike between desks (work spaces) and encourages criticism although encouraging and acting upon are two different things.
Someone on the team suggests offering interships to older people. They have skills; they have experience; they have - what's that word? - wisdom. Jules says yes without listening and so when Ben turns up in his suit and tie, with leather briefcase and immaculate manners, she doesn't know what to do with him.
He sits in a corner doing nothing for a while and then starts helping out wherever required. Everyone appreciates him because he's not like their parents. He's doesn't make rules or take sides. He's the perfect - what's that other word no one likes to use any more? - servant.
So far, so warm.
And then there's Jules' home life with gangly, curly Matt and sweet as cherry pie Paige. Ben and Paige become breakfast buddies while Matt feels unappreciated as house husband and child minder although would never complain.
This is the drama. Yes, there is a little light drama with a message for workaholics: happiness begins with love, which needs to be nurtured, not stuffed in a drawer and forgotten.
The softness of writer/director Nancy Meyers' film is like a swan down duvet. You want to wrap up inside it because it's so much comfier than real life and you want to fall asleep.
The addition of De Niro is flattering but unnecessary. Anyone could have played Ben, even Michael Caine. Like Meryl S in Meyers' even more embarrassing It's Complicated, proper actors in puff pastry roles bring a semblance of hope to movies that should be allowed to float away with the birthday balloons.
Reviewed on: 26 Sep 2015
Share this with others on...