Eye For Film >> Movies >> The Hunger Games: Mockingjay - Part 1 (2014) Film Review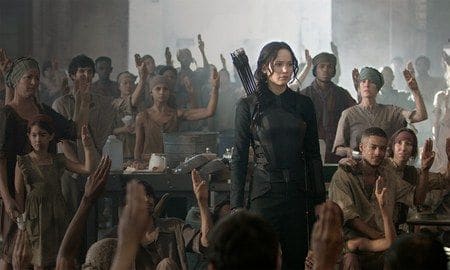 It opens in Gaza and then moves into Syria with an ISIL style public execution, finally settling unhappily in an underground rebel command centre.
This is war, civil war.
"He kills without mercy. He rules with deception and fear."
Who are they talking about? Assad?
The aftermath of the Arab Spring, the failure of democracy in Iraq, the destruction of Palestine and the murderous intent of Muslim fundamentalists have sullied the romance of revolution. Even as entertainment, as this is supposed to be, reality keeps butting in and pooping the party.
Mockingjay is the first part of the final chapter in The Hunger Games saga. The games themselves are toast. Now it's President Snow's (Donald Sutherland) forces against The Radicals (rebels) in this fictional country, ruled by fascists, with Stalinist methods of control.
Surprisingly nothing much happens. Howling hordes of unarmed men overpower well equipped, highly trained government troops a couple of times and the bad guys bomb a hospital to prove what bastards they are.
Katniss Everdeen (Jennifer Lawrence) shoots down a fighter jet with an arrow and you think, OK, yes, if I believe this I'll eat my pajama tops. It's that kind of movie - a credibility cruncher.
There are two exciting moments. One involves Katniss' sister's moggy and the other her boyfriend, Peeta (Josh Hutcherson). The rest is dark and slow.
Katniss is used by The Radicals as a poster girl. She makes no decisions, simply appears for photo ops to whip up enthusiasm and piss off the opposition. Lawrence's expressions stretch from worried to confused and she doesn't look great in overalls.
Those who have been following the series with the kind of reverence reserved for The Vampire Diaries will overlook the glaring holes in the script and wait on tenterhooks for Part 2. Others who come to The Hunger Games for the first time, expecting Prince Harry to be handing out the prizes, will wonder what on earth is going on.
Reviewed on: 20 Nov 2014
Share this with others on...