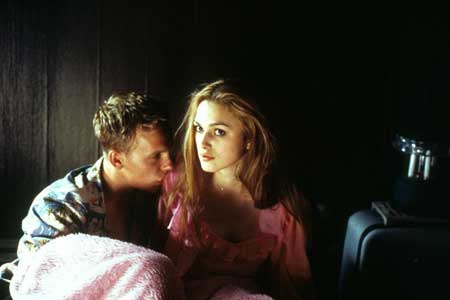 At first, you feel familiar with the genre. Missing teenager returns after nationwide search, traumatised and alone. Where are her companions? What happened?
She can't talk about it. She needs rest. And then, without warning, they start coming - the flashbacks, the bloody sight-bites.

Being a student of high school slasher flicks, you think you know where you are, already irritated that the story has to be told backwards in arty titbits. It seems like a cop-out, teasing the audience with minced memory, when a slow walk into the valley of the shadow would have been more frightening.
The Hole is not Blair Witch 3. The signposts are misleading. This is an intelligent thriller that centres around rich English kids at one of those £5000-a-minute co-ed public schools, where it's cool to be cruel and everyone's working a scam.
Dig a little deeper than four friends locked into a disused fallout shelter in a wood in Wales over a long weekend and you discover an underlying theme of obsession.
Liz's adoration of Mike (Desmond Harrington) goes beyond an achey breaky heart to that place where breathing becomes difficult.
Mike doesn't notice because Liz (Thora Birch) is quiet, intense and not a snapshot beauty. He's the son of a rock star from California, where girls have tailored tummy buttons and come when they're called.
She's the product of a dysfunctional family, where money talks with a soft voice and Mummy's still in her nightdress at noon.
Why would these privileged teenagers want to hide in a filthy bunker, where flies and maggots breed, when they could be dancing on the beach in the South of France? To escape the paparazzi? To have a private party where anything and everything goes?
Goes wrong, more like. What Liz remembers is not necessarily the truth. Some things are too terrible to accept.
The writers, Ben Court and Caroline Ip, have avoided the commonplace and discovered a rich language for these gilded youth. Ex-RSC director Nick Hamm refuses to be intimidated by obvious connotations of wasps-in-a-jar imagery. Clever manipulation of claustrophobic situations is matched by his commitment of the cast.
Birch, last seen as the goth daughter in American Beauty, is particularly fine. Not only is her accent impeccable, but the subtle nuances of hysteria are beautifully controlled.
Reviewed on: 07 Mar 2011
Share this with others on...