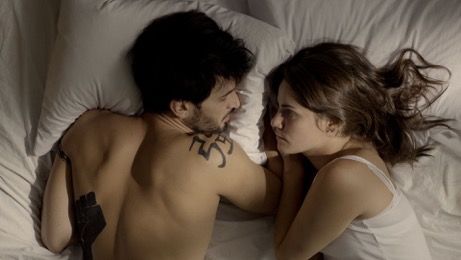 A postponement of 24 hours before Lucía (Pilar Gamboa) and Marcelo (Juan Barberini) can exchange deeds - and cold hard cash - for their first shared property is the starting point for a tense relationship drama in which simmering violence quickly reaches boiling point. Notified of the delay only after they've left their bank, they find the presence of the vast amount of money ($100,000) in their apartment - buying a property in cash is the norm in Argentina - brings underlying issues in their relationship to the surface.
Director Juan Schnitman and writer Agustina Liendo throw the audience into a drama that is already underway. From the outset, the imminent purchase of this first home does not seem to be the happy event that it should be. Marcelo sleeps soundly while Pilar stares at the ceiling wide awake and clearly preoccupied - the tensions begin to crackle as they go about their morning routine. Rather than having the characters directly lie to each other, what The Fire (El Incendio) depicts is a breakdown in communication that begins with sins of omission - each fails to tell the other things that the audience has been made privy to - but develops into complete inarticulacy and a slide into frustration, anger and violence.

Although most of the action takes place in their partially-packed up apartment, the tension is maintained even when each is seen outside of the home. After the postponement causes a violent argument - leaving Lucía with finger-shaped bruises on her arm and Marcelo with a cut on his face - the film follows them one at a time, revealing additional tensions and hidden strains in their respective workplaces.
Lucía works in a pressurised restaurant environment where she seems to be the odd one out by virtue of both her gender and her privileged background (the latter issue is also a point of friction in her relationship with Marcelo). After a stressful encounter with the restaurant's manager, she begins coughing up blood - the resulting conversation with a doctor economically offers insight into the young woman's fears about her relationship and what this next step might mean for her.
Meanwhile Marcelo's aggressive behaviour has spilled over into his work as a teacher - we're shown a meeting with the parents of a teenager who he physically restrained at school. His actions seem justified within the context we're given - the teen in question will also later violently retaliate - and the film works hard to paint Marcelo in shades of grey rather than as simply a violent bully who takes out his frustrations on his girlfriend. Both characters have more happening to them than they are letting on - and the absence of shared information hinders communication and understanding between the two.
Both Gamboa and Barberini acquit themselves admirably in what is almost a two-hander - each interacts with other characters but the latter never take over the narrative or implicitly change the course that Lucía and Marcelo are on. They are also kept in either close-ups or medium shots for almost the entire duration of the film, which serves to amplify the tension (and the characters' shared sense of being hemmed in by circumstances) but also means that they have no escape from the camera's gaze or the heightened emotions of their respective characters. Overall, an intense drama without an ounce of fat on it - we are given no superfluous information and are expected to fill in the gaps for ourselves - and a director to watch out for in the future.
Reviewed on: 30 Apr 2015
Share this with others on...