Eye For Film >> Movies >> The Expendables 3 (2014) Film Review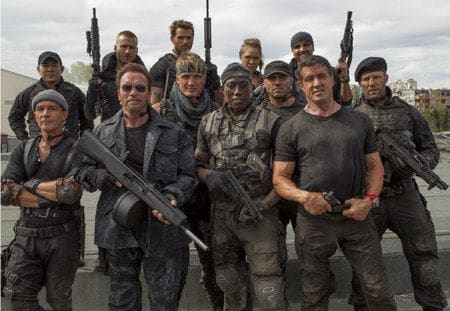 Sly Stallone's latest franchise goes from strength to strength. One of its qualities is that it doesn't pretend to be smarter than it is. You get what you pay for with a little bit of humour to lubricate the violence.
The format remains the same with a useful addition aimed at attracting a younger audience. Instead of continuing the old farts forever theme, Stallone introduces a fresh intake of athletic techno whizzbangers when The Expendables are found wanting on the killing fields.

Essentially a wrinkled group of over qualified mercenaries, Barney Ross's (Stallone) crew represent the old fashioned way of doing things - big guns, big machines, big noise. Having snatched Doc (Wesley Snipes) from jail in one of those Bond-U-Like police states where everyone looks Baltic and bad, they go after Conrad Stonebanks (Mel Gibson), co-founder of The Expendables, who chose the dark side and became a ruthless international arms dealer.
After their first attempt at taking him out fails, Barney tells The Expendables they are now The Deletables and slips away with Bonaparte (Kelsey Grammer) to pick a younger team, which includes Luna (Donda Ronsey), a martial artiste with ball breaking powers.
When a battalion of the Bulgarian army is destroying a massive building with tanks and helicopter gunships in the ultimate shoot out, the old boys and the new kids, Uncle Arnie, Antonio Banderas and all, come together for the explosive finale. It's a stunt man's dream.
Ross is their rock and Stallone learns how to impersonate granite. No one does any acting except Banderas. They are having too good a time being themselves. This is the equivalent of the Seniors golf circuit and long may it last. Their only competitors are the Red films which have an edge in the script dept.
As one of the young turks points out, "They're just a bunch of has-beens trying to be hard." They'll be saying that about 007 soon.
Reviewed on: 08 Aug 2014
Share this with others on...