Eye For Film >> Movies >> The Edge Of Seventeen (2016) Film Review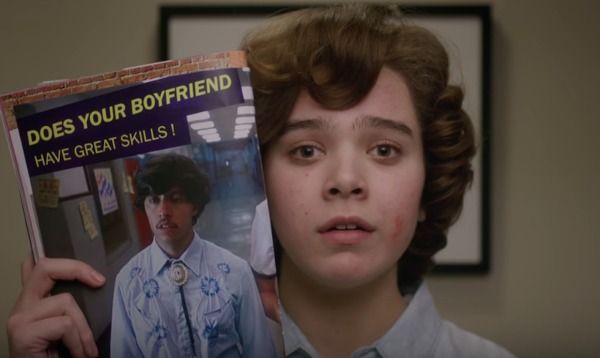 Teen movies have grown up. Once it was girl gangs and giggly mall models who filled the gap between high school angst and boy crush dreamscapes.
Now we have Nadine (Hailee Steinfeld) telling Mr Bruner, her teacher (Woody Harrelson), that she's going to kill herself. She's 16. She's had enough. And it's not going to be a gentle affair, accompanied by a heart heated note explaining everything (blaming no one). It's going to be BIG, a leap from a downtown skyscraper, the full splaterama, as a gesture of defiance against shitty people who hate her because she doesn't fit.
Mr Bruner responds like a man who has watched the waves of despair wash over hundreds of others during his 20 years in the job. Of course he takes it seriously. And naturally doesn't.
What makes Kelly Fremon Craig's film special (different) is the quality of Steinfeld's performance and her script. You feel she knows what this is about and she's not going to portray Nadine as a victim.
She uses voice-over which can be a cop out, but isn't in this case because the nature of being 16-going-on-17 is that nothing stays the same... for long... and you need to attune to the running order.
In junior school she is bullied: "No one likes you; you are going to get Aids." Thanks a bunch! Krista comes over. She's shy and pretty. They become friends, best friends, onlys. Wow!
In high school Krista (Haley Lu Richardson) shacks up with Nadine's older brother (Blake Jenner). He is every teenage girl's poster boy - tall, good everything, sweet natured, doorknob dim. Nadine can't handle it. There is no one to turn to. Their mum is going through a mid life breakdown... of sorts. Dad's out of the picture and she's mainlining on stress.
Result? Mr Bruner and the suicide scenario.
Why does this matter? Who cares if she sends a Facebook message to another boy suggesting they get together and do dirty sex for the scrum of it - she's a virgin BTW - and when he agrees and tries it on in his car she freaks out as if he's raping her or something and he thinks, what kind of bitch is this, bitch!?
Surprisingly the movie moves, not into the dark side, but onto a lighter level of normal, if that makes sense. Hope is the antidote. Really? They all say that. Can it be true?
Nadine discovers that "everyone in the world is as miserable as me". She discovers other things, too. Good things.
Maybe...
Reviewed on: 22 Nov 2016
Share this with others on...