Eye For Film >> Movies >> The Bourne Supremacy (2004) Film Review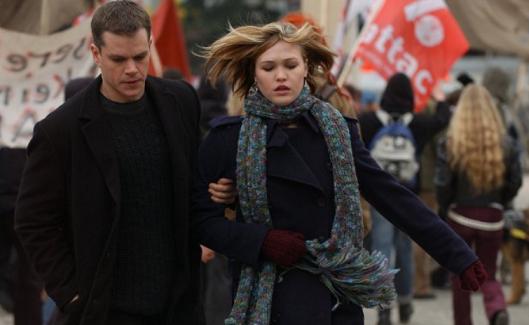 This is one sequel that requires knowledge of the original, in order to make head or tail of it, which only emphasises the degree of integrity involved. The audience is not treated as lumpen action addicts, but intelligent thriller aficionados, who understand the intricasies of international espionage and how easily it can be corrupted.
At the end of The Bourne Identity, Jason (Matt Damon) has reunited with Marie (Franka Potente), the student who reluctantly became involved in his journey from Eastern Europe to Paris. At the beginning of Supremacy, they are living in Goa.

Although no longer hunted by the CIA, Jason's memory is still fragmented. He was a trained field operative, used by the Agency as an assassin, but due to what psychiatrists call "selective dissociate amnesia," remains mostly ignorant of who he is and what he did.
At the CIA headquarters at Langley things have changed. Ward Abbott (Brian Cox) represents the surviving remnants of the old guard, although he is near to retirement and no longer with a finger remotely close to the pulse. He has other agendas, it appears, outside the bureau and the fresh face in the office is Pam Landy (Joan Allen), an icily efficient department chief, who is fiercely defensive of her position.
In many respects, Supremacy is Identity in another light. Jason's on the run again after being framed for a double murder. He must prove his innocence, or, better still, expose the villains, before Landy's people find him.
Against all expectation, Damon fits Bourne's profile perfectly. He is more focused now, mentally tougher, using paranoia as a defensive devise, constantly alert. He does not confuse Jason as an action hero, rather plays him from the heart, even if the heart bleeds for Marie.
Allen is a revelation, power dressed and sharp, so sleek innuendo slides off her and flattery implodes on impact. Cox, on the other hand, loves the intrigue, the subtle manipulation, the backstairs chicanery, and there's no one better to convey it. In fact, performances by the entire cast are flawless.
Paul Greengrass directs with energy and precision. The action sequencies continue Doug Liman's love affair with the handheld camera, staying close and personal, while broadening the scope - Berlin, Naples, Amsterdam, London, Munich, Moscow, New York. The Mini Cooper chase was one of the highlights of Identity, matched here by an even more sensational race through the streets of Moscow, pursued by a posse of Russian police.
Tony Gilroy's script is as smart as the first and still comes up with lines like these: "You're in a big puddle of shit," Abbott tells Landy. "And you don't have the right shoes for it."
Such quality shines forth, like sunshine through seaweed.
Reviewed on: 13 Aug 2004
Share this with others on...