Eye For Film >> Movies >> The Bling Ring (2013) Film Review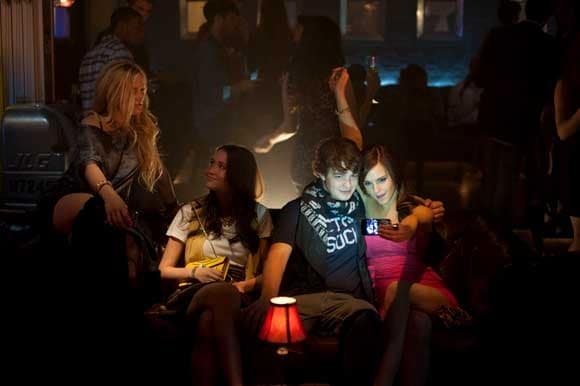 Sofia Coppola time travels ever so slightly in her staggering morality play The Bling Ring. Broken homes and homes broken into are intercut with the interviews of members of a group of teenagers who rob the houses of celebrities.
Coppola goes for a sepia-coloured look, which later becomes green-tinted security camera footage. The film stealthily works on three layers of reality - the surface, the memory, and the legacy. She is highly aware of a possible future. It is easy to imagine The Bling Ring as a fashion cult film of Spring 2033, when you want to dress retro and ruminate about the style of this century's teens. As in the director's 2006 Marie Antoinette, but far forward, the neon yellow titles go well with the punk pink story about the French empress and Bow Wow Wow's I Want Candy. Kirsten Dunst, a cameo apparition in a white silk blouse walks through a garish nightlife scene.

Things look bad in The Bling Ring, based on the 2009 Vanity Fair article The Suspect Wore Louboutins by Nancy Jo Sales. Coppola exposes the ugliness in the details. Paris Hilton's actual house used in the film has stained-glass windows in the front, that a newly arrived mail-order bride from a reality show would reject from a catalogue for her suburban home.
Lip gloss in the color of shiny Band-aids, boxy "it-bags", tacky shoes, prescription medication and drugs drive the teenagers forward - the special box under the bed always holds the riches, what is most expensive, not most precious.
School and church have been turned into a low-fat lunch special called The Secret. Cynical self-help clichés are used by Leslie Mann's slow-witted Laurie to home school as she distributes ADHD drug Adderall to her child Nicki (Emma Watson), and her daughter's cohort Sam (Taissa Farmiga), who lives with them, and whose mother is described as a "practicing drug addict and alcoholic".
When we first encounter Marc (Israel Broussard) and Bling leader Rebecca (Katie Chang), the drop out high school for the hard to handle is bathed in washed-out pale blue light. The colour of metal lockers and blend-in T-shirts. "Hey, new kid," Rebecca says and invites him to join her and friend Chloe (Claire Julien) for a drive to the beach.
A hellish indifference tints what we see everyone do, up to the last interviewer, who has his scripted questions and sticks to them. At its core, Coppola's film is not limited in exposing a celebrity obsessed culture. The Bling Ring cuts through the vapid foam to the vapid core to ask questions about morality, responsibility and where desolate idleness may lead. "If I became famous and we weren't friends any more, would you rob me?"
The girls dress for the invasions, as one might for a sample sale without dressing rooms, suited for quick try ons and competitive grabbing. Rebecca rummaging through closets pulls out a white Birkin and says "It's a Birkin!" to Marc and to us as Coppola slams a mirror of luxury desires in our faces. The timing of her film is perfect. The real life robberies happened in 2009 and nothing, at any point in time, seems uglier to us than the fashions of four years ago. From droopy sunglasses to platform hooves.
No history, no culture. Not a book in sight in any of the homes. In François Truffaut's 1966 Fahrenheit 451, based on Ray Bradbury's science fiction novel, Oscar Werner plays a fireman who professionally breaks into houses to burn hidden books. Screens with official friends are in every home and Julie Christie's empty expression as his drugged, media-addicted wife could have been used as a model for the Bling Ring actresses, if the vacant stares weren't so pervasive nowadays.
Children want to know how other people live. The curiosity we see here is different, not about how people live but what they have. The objects don't speak any more.
The way they show-off themselves, the dare of entering these houses is reminiscent of what children do in many classic coming of age stories. It is scary and exciting to climb over the fence with your friends to the abandoned mansion at the end of the street to peek into windows. My heart races at memories of the dare Vincente Minnelli gave to Tootie (Margaret O'Brien) for Halloween 1903 in his 1944 Meet Me in St. Louis and she only had to ring a stranger's doorbell, not break in. Katharine Hepburn's Jo March in George Cukor's 1933 Little Women could easily have climbed into the wealthy next-door neighbour's house.
The start of the new millennium will be remembered as a time when Grey Goose bottles came with sparklers, people posed with stacks of money and a lip-glossed pout for selfies, still drank coffee and had phones they held on to tightly in their hands at all times.
One of the robberies is shot from above, and the modernist house on the hill overlooking a glimmering Los Angeles, looks like a doll's house from the Sixties, whitish pink and boxy with a blue pool, the shadows of Barbie and Ken seen from a helicopter. The night has eyes and the shot a beautiful calm. God, or Doctor TJ Eckleburg if you like, is in this shot, as the camera moves closer and sets us free from a hypnotic emptying out of morality. We listen to crickets and watch a 13-year-old cat burglar squeeze through a pet door and a semi-religious experience with Lindsay Lohan's perfume in front of Lindsay Lohan's vanity mirror.
The arrests are feel good moments and Coppola decides to show them all, with surprised parents, grumpy dogs, and satisfied police. Actions do have consequences, still, for some, because they are young and haven't learned the rules of stealing yet? "Too many bottles of this wine I can't pronounce," the song over the closing credits tells about "too many white lies and white lines."
"Everyone loved us - we had so many beautiful gorgeous things," Marc says. Coppola's films are concerned with states of mind. Distinguishing Prada from Miu Miu and not combining leopard with zebra prints are handy talents, even if they don't sustain a soul for long.
The Bling Ring is a screen to recall other movies, think about the now and where we are headed.
Reviewed on: 16 Jun 2013
Share this with others on...