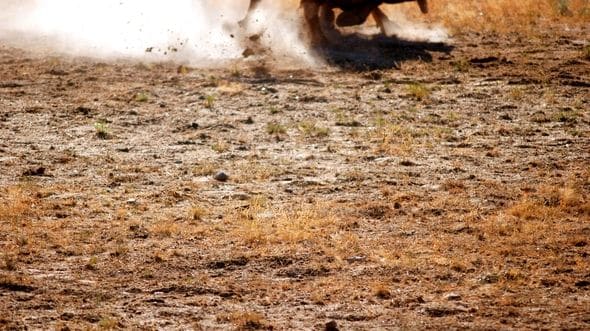 Showing as the perfect accompaniment to Barre'$ Silence at the Bradford Film Festival, Terra is an accomplished documentary short that is artistic as well as articulate.
The subject is Portugese ox fighting - the yearly tradition of Chegas de Bois - which sees prize hunks of angry Sunday lunch lock horns, while crowds cheer them on to find which is the strongest. This is as far away from the pomp and ceremony of a Spanish bullring as you can get and director Pedro Lino wastes no time in connecting us to the landscape, showing us the wide open spaces of the northern rural region of Barroso, where the fights between these "Gods of horns and testicles" are staged.

His emphasis is on the primal, so that when we first glimpse the ox, we do so at close quarters, invited to admire the animal's sleek coat and the muscles that ripple beneath before the camera moves on to the sharp end of those horns. Although only around 10 minutes in length, if you exclude the credits, the craftsmanship of five cameramen and women is presented here and Fernando Vasquez, Mariana Pestana Lino, Tiago Couto and Tomás Valle have all done sterling work, especially when it comes to capturing the fight itself.
The sound design by Rodrigo Cardoso is also excellent, as he uses the ambient sounds of the countryside and the low of the ox, showing how they give way to the shouts of a crowd which then subsides back to near silence as the crunch of the animals' combat takes precedence. The film is as noticeable for its stillness - such as the moment when the bulls stand eyeing one another, as though disinterested - as it is for the fury of the fight. The choice of guitar music Mudar de Bina, by Norberto Lobo, is also an excellent one, as it comes from a place of tradition and heritage. This may be the modern day but Lino shows how these fights evoke something ancient and earthy that reminds us of connections to nature that many of us have lost.
Reviewed on: 02 Apr 2014
Share this with others on...