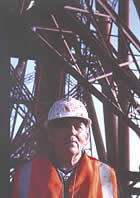 Tangerine
Reviewed by: Nicola Osborne
Some people cope well with retirement. They take their carriage clock, party with mates from work and set about finding themselves a new and thrilling hobby, or even a second career. And some don't.
In Tangerine, we meet a painter on the Forth Bridge (a bridge that - myth would have it - is so big that it is always being painted) who, having just retired, is at a loss how to spend his spare time. As a consequence his relationship with his wife becomes increasingly strained.

With practically no dialogue, but some very nice images of the Forth Bridge, this is a pleasant, low-key, quietly romantic piece, which holds back at first, building to a much-needed release.
Lovely.
Reviewed on: 20 Aug 2001
Share this with others on...