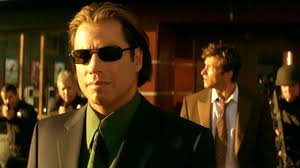 "The problem with Hollywood is that it produces shit. Unremarkable, unbelievable, shit."
This is a refreshing admission, raising hopes that this Hollywood film might just be different. However, in the case of Swordfish this opening remark by John Travolta proves to be sadly prophetic.

The plot concerns super-hacker Hugh Jackman who is induced to work for an out-of-control government agent John Travolta. Jackman is persuaded by Travolta's henchwoman Halle Berry - she is sort of like a Bond Girl who has wandered into the wrong film by mistake. Berry, who got paid a small fortune for taking her top off in this film, must be asking when acting ability has anything to do with getting a part.
Meanwhile, the FBI (as personified by Don Cheadle) is hot on Jackman's tail, but as Jackman becomes increasingly concerned about Travolta's ultimate plan he begins to consider double-crossing his boss.
Swordfish is an attempt at something new in the predictable world of the Summer Action Blockbuster, but the post-modern action-thriller backfires badly. In trying to defy action-thriller conventions, Swordfish merely produces the most oddly inert action heroes ever in Hugh Jackman and Don Cheadle. The two of them spend most of the movie just waiting for John Travolta to do something evil, while the audience sits waiting for the film to shift into gear.
The film contains the requisite Big Action Moments, such as a high-speed car chase and the amazing spectacle of a bus being lifted by a helicopter through the streets of LA, but these scenes are oddly lacking in tension and suspense and just hang there with no meaning or relevance to the film - much like Halle Berry's chest.
Swordfish is a film that tries hard to be different but will end up disappointing intellectuals and action-movie fans alike.
Reviewed on: 14 Jun 2001
Share this with others on...