Eye For Film >> Movies >> Stolen Fish (2020) Film Review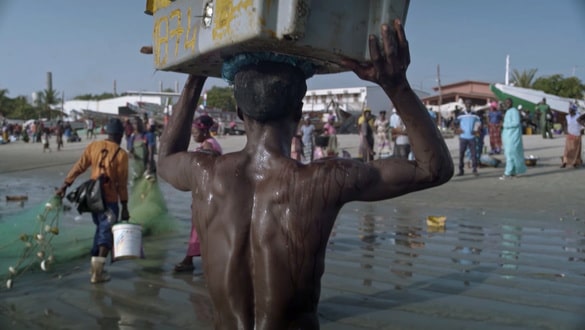 Gunjur is one of the biggest fish landing sites in The Gambia, a place where, traditionally, men have fished and women have processed and sold it. In 2016, things changed with the opening of a Chinese plant - one of 50 in West Africa, that turns fish into fishmeal and that has also had an impact on the local economy and environment. Gosia Juszczak's documentary, relates the repercussions through the stories of three Gambians who make their livelihoods from fish - fishermen Abou Saine and Paul John Kamony and Mariama Jatta, who buys the fish and takes it to market. It's a simple supply chain but one that has been massively disrupted by the corporate presence.
On a basic level, fishmeal - which is used in Europe and China in industrial farming to feed livestock - is resource intensive, as for each 1kg of meal produced, 4-5kg of fish must be used. Inevitably, those who run the factory can easily push women like Mariama into having to wait for whatever the factory doesn't want by causing the price of fish to inflate. The Chinese don't just rely on local suppliers, however, Juszczak also shows how they use industrial trawlers with indiscriminate nets to scoop up any creature in their path - from turtles to juvenile fish - virtually dredging the sea in places, a particular problem when they go into the mouth of The Gambia river, where the fish go to spawn. There's also noise pollution and a disregard for the local fishermen, with accidents also occurring. One of the interviewees talks about the "stomach" of the factory needing to be filled - a strong image that highlights the "monster" problem that the community faces.

The Polish director watches her three subjects as they go about their work, capturing the intensity of labour and purpose - notably in one tracking shot of a man carrying fish from boat to factory -  as we hear the trio talk about their understandable anger as well as their hopes and dreams. Carefully, she allows a bigger picture to emerge of the way that this economic squeeze leads many Gambians to consider taking the highly dangerous "backway" to Europe, in the hopes of better fortune. Kamony relates what happened to him on one such journey, a grim trip but one he says he would repeat. This is a melancholy film, with no easy answers, but one which encourages the viewer to spot the hidden cause and effect of Chinese and European imposition in and domination of these smaller African economies.
Stolen Fish is showing as part of the Into The World shorts showcase at the virtual edition of Sheffield Doc/Fest.
Reviewed on: 13 Jun 2020
Share this with others on...