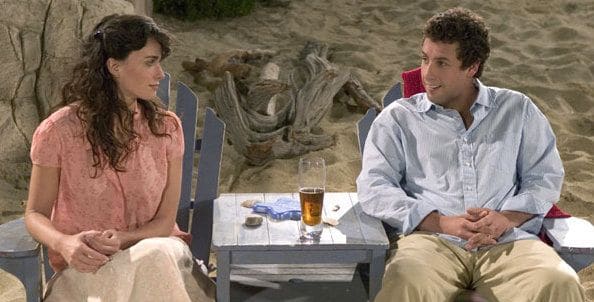 In this culture-clash comedy drama, Paz Vega plays Flor, a devoted mother determined to give her daughter the best start in life after her husband walks out on her. Together, they cross the border from their native Mexico and head for the riches of LA, where Flor finds a home from home within the Hispanic community. It's not until some years later that, in order to get a better paid job, she has to venture into the Anglo.
She ends up as a home help for the Clasky's, a white, middle-class suburban family, ruled by lean, aerobicised super-mom. Deborah (Tea Leoni) is totally neurotic, all self-help catchphrases and Californian fixations with body, career and having the best of everything, while her patient family endure her attempts to make them conform to her ideals. In contrast, husband John (Adam Sandler) is far more laid back. As a highly successful chef, about to be given an even bigger break, he's trying to keep it real and work on a small scale, rather than embracing Deborah's philosophy of bigger, better, more.

Of course, all this is bound to cause problems for poor Flor, who finds herself caught between the competing outlooks of the Claskys. When she agrees to live in at their Malibu summer home, she is forced to bring her young daughter and finds herself fighting to keep her tiny family separate from that of her employers.
James L Brooks has nurtured a very convincing ensemble piece, with some delicately pitched performances. Sandler is more authoritative and less bumbling than in many of his previous incarnations. It's nice to see him in a new context, where he elicits both sympathy and credulity. Sarah Steele and Shelbie Bruce, as Flor and Deborah's daughters, are also convincing and natural, while Leoni is great as the woman you love to hate, though her hysteria can be a little tough on the nerves at times.
As a veteran producer, Brooks has used his know-how in this directorial role to create something with a bit more depth than the spoofy title might suggest. However, weighing in at just over two hours, Spanglish is testing its audience's patience and goodwill, particularly when the characters' emotional seesawing gets more intense.
It remains a watchable and entertaining film. It's just a shame that in trying to cover every angle, the writer/director ends up sacrificing some of the freshness and credibility of the film's opening.
Reviewed on: 25 Feb 2005
Share this with others on...