Eye For Film >> Movies >> Running With Scissors (2006) Film Review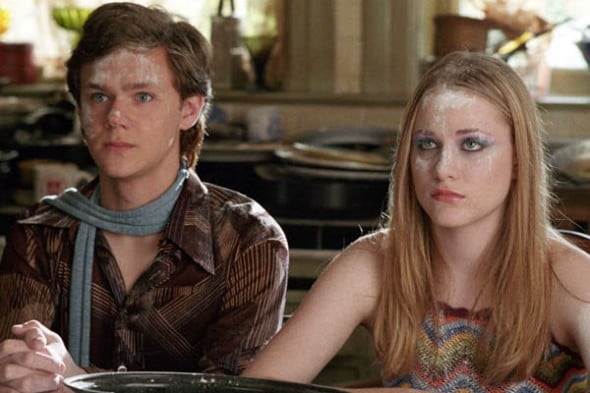 If Augusten Burroughs hadn't already published the horrific story of his early life, Charlie Kaufman or the Farrelly Brothers would have been forced to invent it. As it is, Burroughs' 2002 memoir, Running With Scissors, has been entrusted to the tender care of Nip/Tuck's Ryan Murphy, who adapts and directs the rank material like a perverted Robert Redford. In Murphy's hands, Running With Scissors might as well have been called A Psychosis Runs Through It.
Farce is Murphy's métier, the more grotesque the better, and in that sense Burroughs' tortured adolescence is a gift from the gods. The problem is that the success of the memoir lies less in its horror than in the author's dry wit, engaging candour and genuine affection for his subjects. Murphy's voice, however, is both more detached and more random, leaving every character isolated in a cage of eccentricity and every incident played for laughs—a freak show of egos and vanities.
Narrated by Burroughs (Joseph Cross) from age 13 to 16, Running With Scissors takes place in the Seventies and details the author's abandonment by his unhappy parents and subsequent adoption by his mother's insane therapist. A narcissistic failed poet, mom Deirdre (Annette Bening) alternates impromptu readings—exhorting her acolytes to "get the rage on the page"—with bitter tirades against her weary, alcoholic husband, Norman (Alec Baldwin). As she becomes increasingly unstable, Deirdre falls into the clutches of Dr Finch (Brian Cox), a charlatan psychiatrist, obsessed with bowel movements, both his own—which he believes contain signs from God—and those of his patients. Finch is the proud owner of a room he dubs "The Masturbatorium" and his preferred m.o. is to find wealthy female clients, dose them with flattery and Valium, and manipulate them into paying his bills. Before long, he has persuaded Deirdre to endure a daily therapy session, acquire a serious pill habit and allow him to raise her only son.
One of the major problems with this movie is that, like TV's Nip/Tuck, no one is completely sane. Pathologies range from the mildly neurotic to the deeply depressed to the totally unhinged, and that's just within the extended Finch family. There's wife Agnes (Jill Clayburgh, badly in need of a spa treatment), who refers to her certifiable husband as "the doctor" and eats nothing but kibbles. There's daughter Hope (Gwyneth Paltrow), a weirdo in Mormon-thrift-store dresses who starves her cat—on the instructions of the animal itself. Meanwhile, sister Natalie (Evan Rachel Wood) is a troubled punkette who gets her kicks from an electroshock machine. Lastly, there's Bookman (a terrific Joseph Fiennes), a 35-year-old pedophile who lives in a shed at the bottom of the garden and who becomes Augusten's first love. In a Murphy project, this is considered a romantic subplot.
On the page, Burroughs' recollections are enriched by a tone of warmth and self-discovery that's completely missing on screen. What's left is a series of increasingly bizarre incidents, most involving illegality and all screaming for the intervention of social services. The movie is peopled by characters without boundaries and the cast responds by turning in some of the most extravagant performances this side of I, Claudius. While Bening may nab the Oscar nomination, it's Baldwin who deserves it. With his soft gut and defeated stoop, the actor plays Norman without hope, or irony, a heartbreaking performance so quiet it's certain to be overlooked. When, shot glass in hand, Norman looks at his son and murmurs, "I see nothing of myself in you," we catch a glimpse of an entirely different movie. One with a soul, perhaps.
Reviewed on: 01 Feb 2007
Share this with others on...