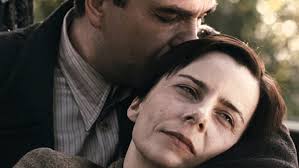 Beginning with acts of rape and murder, Wojtek Smarzowski immediately sets the tone for his hard-hitting period drama which although containing a carefully wrought love story, never romanticises the past.
Smarzowski shines a light on the the tragic 'forgotten' struggle of the Mazurians, who living in the borderlands between Poland and Germany, find themselves caught between the devil and the deep blue sea as their home becomes little more than a warfare pawn. Set in 1945, the area, which had long been under the auspices of Germany, reverts to Polish and, to all intents and purposes Soviet rule.

Having already suffered Germanisation, the indigenous populace once again find themselves trapped in the middle as they face being branded 'German' by their new overlords and deportation from their own land at the same time as retreating Germans and advancing Russians are all happy to terrorise and abuse them. It's a complex backdrop, with even the Mazurians having a tough time remembering which language they should be speaking, but Smarzowski is economic in his set up and gives a sense of the confusion without the film ever becoming muddled.
A time in history when an ability to keep secrets is a key to survival, we are offered a window into this bleak world through the slowly kindled romance between two damaged souls. Tadeusz (Marcin Dorocinski), a member of the Polish resistance, witnesses the brutal death of his wife in the opening scene of the film and flees, tired of the bloodshed. His path crosses that of Róza (Agata Kulesza) - a widow with her own stash of secrets and emotional and physical scars - when he visits to return her husband's wedding ring. Róza's trauma is a reflection of her ravaged homeland - still standing but fundamentally fractured to a point where healing is unlikely. Still, as Tadeusz works to rid her land of mines in return for bed and board, a tentative relationship begins to form. But even as some sort of personal redemption for them both seems possible, the spectre of pillaging troops and Russian internal affairs loom ever closer.
There is a look of washed-out Vermeer to Piotr Sobocinski Jr's lensing, with the dusty corners of Róza's farmhouse rendered harshly, as if Róza's very environment has become as drained of warmth as she has. Dorcinski and Kulesza make their silences meaningful, while Smarzowski adds some levity to their romance that offsets the grimness elsewhere. Audiences raised on cosier historic pieces may find the unremitting brutality difficult, but Smarzowski is to be applauded for never letting his tragedy slip into melodrama, making this a tough but compelling watch.
Reviewed on: 13 Jul 2012
Share this with others on...