Eye For Film >> Movies >> Robinson's Place (1963) Film Review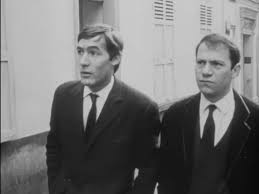 Despite being much-lauded for his Cannes winner The Mother And The Whore (La Maman et la putain) - which was also something of a box office hit - Jean Eustache, though a contemporary of Godard, Rohmer and Truffaut, has never really enjoyed the more general renown they have, particularly outside of France, and his work is incredibly difficult to come by on DVD - although, with luck, the current retrospective as part of the UK French Film Festival will help to change that.
He is particularly known for his blending of fact with fiction - and this is in evidence right from the start of his career in his first films Robinson's Place and Santa Claus Has Blue Eyes, which though shot three years apart were intended to be screened together under the title Les Mauvaises fréquentations (Bad Company). Both shine a non-judgemental spotlight on the experience of working-class young men in 1960s France.

The first - and more straightforward of the two - concerns two friends who are not letting their lack of cash get in the way of their attempts to chat up the filles de Paris. Settling their gaze on one in particular, they begin to woo her in tandem, until a rebuff sparks revenge. Shot in typical nouvelle vague style with unknown actors, the most striking thing about Robinson's Place is how much energy it has considering it is, for the most part, a study of ennui.
Eustache keeps his camera on the move for much of the film, walking with the three main characters as they wander the district looking for a place to grab a drink, the men operating as a 'charm-offensive' tag-team with the woman - at least in their minds.
Eustache never misses an opportunity to document their surroundings and it is clear that he is using the folk of Paris as unwitting extras in the piece, one or two becoming shyly aware of the camera, others not. When the situations become more static, he generates an naturalistic intimacy with the two young bucks, whose motivations are perfectly in keeping with youthful frustrations which tend to mean one's hedonistic desires are reined in by the length of ones pursestrings.
Eustache hints that the central characters, like the young protagonist of companion piece Santa Claus Has Blue Eyes, may be learning some moral and life lessons before showing us that, in fact, their youthful exhuberance means they are almost certainly destined to repeat their follies.
Reviewed on: 19 Nov 2009
Share this with others on...