Eye For Film >> Movies >> Rambling Rose (1991) Film Review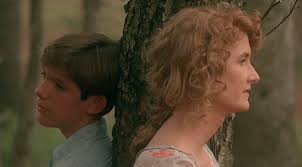 The Deep South is like a nation locked in dreams. People of property are self-contained. Their language softens the impact of domestic life with decorum. The world outside remains distant, like news from Gettysberg. Even if there is wickedness in the history of these slave states, there is dignity also, and pride.
Rose's story ("I've been wandering in the wilderness, lost") might have happened anywhere. But it happens in Georgia and has rhythm in its shoes. The film is like a work of art that exists outside movements and influence, perfectly formed. Containing poetic qualities, there is danger of it slipping between the cracks.

Rose is 19, an orphan, raised on a dirt farm, tall and lissom, with the mind of a dreamer ("I will not cry like a woman") and the body of Venus de Milo ("I am only a human girl person"). She comes to the Hillyers' house in 1935, during the Depression ("strong men weeping, women hungry"), to work as a domestic help.
The Hillyers do not believe in the conventions of their class. "To hire a person to do housework is a criminal practice," Mother says. "We welcome you from the heart." When Daddy returns home from the hotel that he owns and manages, he greets her as Rosebud. "You are as graceful as the capital letter S," he says. "You will adorn our house. You will give a glow and a shine to these old walls."
She is overwhelmed, naturally. The children - Buddy, 13, Doll, 11, Waski, five - observe with amusement. They like Rose. She's so gauche and open and generous ("pretty as a moonbeam, warm as sunshine"), but intellectually in a lower league. This is Buddy's story, too, because it is his memories of Rose and the strength of his feelings that drive the narrative.
Buddy (Lukas Haas) is without sentiment. Mother says he has a dark side. He enjoys telling Rose the latest horror from the newspaper ("Did you hear about the old man who ate his niece?") and watch her squirm. He is inquisitive. When she slips into his bed one night after a scene with Daddy, all he wants to do is touch her breast. "It's soft." She giggles, pushing him away. "I thought it would feel like cantaloupe."
What might have been a rites-of-passage sex education comedy, framed in period costume, is unique and different. To all intents and purposes, Rose is nymphomanic. She leaps on Daddy's lap, crazy with infatuation, and then days later is taking on half the young men of the district. "Girl strikes like a cobra," Daddy says.
Her needs are emotional. "Anyone with common sense can be sexy," Mother says. "She has love in her heart." Rose is charmed and blessed. Everyone, even the doctor, falls under her spell. Innocence is her protection and trust her failing.
Under cover of a simple girl's exploitation of Southern hospitality lies a deeper question of male attitudes towards female promiscuity and how it affects the hypocritical tides of sexual mores. When Daddy says, "Rosebud, you break my heart," he means she exposes weaknesses in his character that he dare not face. In the end, it is Mother who shames the men into accepting that retribution is unworthy of them and autocratic deliberation over a woman's right to be a woman worse than despicable.
Calder Willingham wrote screenplays for The Graduate, Paths Of Glory and One-Eyed Jacks. He was born in Atlanta, but raised in Rome, Georgia. This is based on his autobiographical novel and was written 18 years ago. It has taken that long to come to the screen, produced, eventually, by Renny Harlin, the Finnish director of Die Hard 2, and directed by Martha Coolidge, who made her reputation with documentaries.
Willingham writes like a prince. Pure gold. Coolidge directs with intelligent sensitivity, allowing argument to infiltrate the web of nostalgia and take an edge off sorrow. The film avoids cliche at every point, despite nodding references to familiar icons. Rose is both victim and catalyst. She knows not what she does. "Sex ain't nothin' but a mosquito bite."
Laura Dern plays her like a child remembering what it is to be a lady from listening to someone talk of an actress in a film she hasn't seen. When she swings down the street in her handmade cotton dress and thick raised heels to dazzle the young blades with imaginary glamour, she imitates catwalk postures, utterly out of time and scarlet brave. Her performance, unlike Robert Duvall (Daddy) and Diane Ladd (Mother) who are rock steady, teeters on the brink of self- conciousness, but triumphs in the end with a vulnerability that is both vital and captivating.
Reviewed on: 12 Oct 2003
Share this with others on...