Eye For Film >> Movies >> Pulp Fiction (1994) Film Review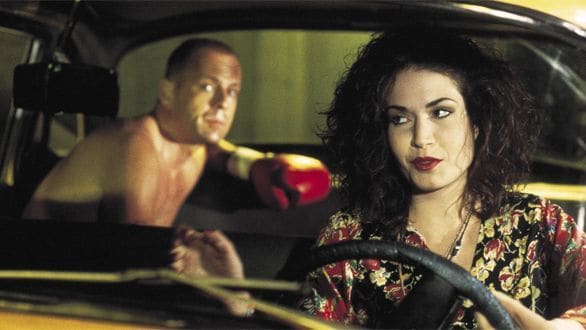 After an auspicious debut with Reservoir Dogs, Quentin Tarantino proves he's no one-off pan flasher with Pulp Fiction. As an example of cinematic dexterity, it has prodigious confidence and a wicked sense of the absurd.
Using the Short Cuts technique of integrating stories into a moveable plot, it infuses fresh energy into the sleazeology of gangster lowlife, flipping clichés sunny side up, creating a whole new ballpark for violent misbehaviour.

By accepting the manners of a lawless subculture, Tarantino makes light of the traditional conventions, such as paranoid hitmen and nymphomaniac molls, with a script that prefers erudite discussion on the history of the burger to anguished confessions of a psychopathic killer.
John Travolta and Samuel L Jackson are an unlikely pair of heavies in the pay of a big bad black boss (Ving Rhames), whose reputation for mercy is as tenuous as Al Capone's passion for caged birds. Travolta has the look of a man still hung on the low branch of a heroin rush and Jackson, with his Chuck Berry hairdo and biblical turn of phrase, is nothing if not adept at the art of the contract kill. Add to these Uma Thurman as the big bad's broad, whose love affair with Madame Coke goes beyond infatuation, and Bruce Willis as a boxer on the naked blade of a dangerous double-cross, and the scene is set for unexpected malfunctions in a gut-puncturing funny film noir.
Tarantino admits to a magpie instinct, stealing ideas from every movie ever made. It doesn't matter. Excitement shivers through each scene with quirky, individual peculiarity. He has the courage to trust actors with long takes and is the opposite of modern moviemakers who think fast cutting is cool. His actors are magnificent, appreciative of such respect. The film has a sexiness that titillates the eye and a humour that runs like bald rabbits through the bramble patch.
Tarantino's dialogue is surreal kitsch and his ability to juggle time and tell stories of maladjusted murderers in unusual circumstances is truly impressive. If David Lynch is the mad prophet, Quentin is the alchemist.
Reviewed on: 11 Dec 2008
Share this with others on...