Eye For Film >> Movies >> Need For Speed (2014) Film Review
The Fast And The Furious franchise has become a genre. It's cars, not sex, that lubricate the libido. Speed, of course, is the high. What's the low? Death by dangerous driving? No - losing the race.
Aaron Paul comes straight out of Breaking Bad with a clutch of Best Supporting Emmy awards. You wouldn't guess it from this.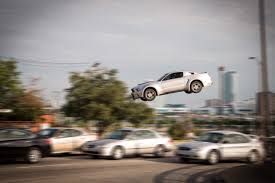 Nothing could be more predictable. The title says it all. Tobey Marshall (Paul), the kid from Mt Kisco, NY, a blue collar hick town, whose father has recently died, leaving him in charge of the family's garage where a team of dedicated young mechanics soup up cars for illegal street racing, is determined to save the business from bankruptcy.
Dino (Dominic Cooper) used to live here but has gone on to better things, driving in the Indy circuit. He comes back with Tobey's girl on his arm, to flaunt his ultimate coolness.
Tobey challenges him to a race which has fatal consequences and a stretch in jail, followed by a rematch in California which means driving a multi-million dollar motor across country with a dippy English bird (Imogen Poots) as passenger and bounty hunters on his tail.
The film is an elongated car chase, with fabricated excitement dropped in here and there. The baddie wears black in case you had forgotten and the Limey chick is blonde and cheerful. Tobey has no character to speak of, other than strong and silent - even the strong's a bit iffy.
The F&Fs had better plots and a sprinkling of humour. NFS has silly girl antics and nowhere to put them.
If the smell of exhaust nauseates you and the sight of skinny grown boys going all the way with macho machines makes you want to take up cycling, stand well back.
As a contender in the hot rod section, NFS has nothing new to offer, except possibly this insight: "You learn a lot about a person after you've been hit by a truck."
Reviewed on: 10 Mar 2014
Share this with others on...