Eye For Film >> Movies >> Mr. Turner (2014) Film Review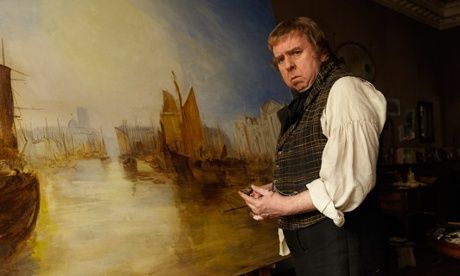 Films about artists can often go wildly astray but Mike Leigh's portrait of William Turner, the "painter of light," is an exemplary depiction of artistic genius in turmoil.
Leigh, back in Cannes for the fifth time, gives one of his regular actors, Timothy Spall, a career-defining role as the grunting, irascible and passionate artist. Even at this early stage he has to be a strong contender for a best acting gong.

What is truly amazing about the film is the way cinematographer Dick Pope evokes Turner's colour palette, providing breathtaking imagery in the true spirit of his works.
There are some splendid scenes as Turner mischievously interacts with his contemporaries such as the po-faced Constable at the Royal Academy. He daubs a splash of red on one of his rival's grey sea-going canvases, which he turns into a buoy. His exchanges with Joshua McGuire's supercilious Ruskin offer delicious moments of humour.
Leigh's creation of the period, ranging geographically from Margate to London, exudes authenticity in every detail.
Against this canvas it is Spall's performance that provides the mesmerising core whether he is evoking the affection between father (Paul Jesson) and son, stalking with sketch pad in hand the country and seascapes he paints or welcoming into his home the society buyers who have made him so successful. His status means he can speak his mind – and frequently he takes delight in doing so.
The method of his creation proves totally absorbing whether he is stabbing the canvas with a brush or spitting on it to mix the paint. His primitive and unconventional approach makes him an outsider to the artistic establishment.
His physical appetites find release in his sexual exploitation of his housekeeper Hannah (Dorothy Aitkinson) but later he finds true love with Margate landlady Mrs Booth (a warm and forgiving Marion Bailey).
When Turner becomes ill, Spall's performance changes register from ebullience to the sadness and tragedy inherent in the decline of this great bear of a man. It is heart-breaking to witness.
Leigh has made a remarkable, intelligent and inspired evocation of the artist's life, warts, genius and all.
Reviewed on: 15 May 2014
Share this with others on...