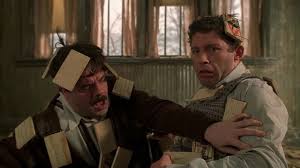 Technology does not improve the old gags. Here we have a Laurel and Hardy full-length feature, without Stan and Ollie, but with the most sophisticated animal effects since Babe. It is yet another case of letting tricks take over.
Two brothers, Ernie (Nathan Lane) and Lars (Lee Evans), have been left a string factory and a delapidated country house in their dad's will. Ernie's for selling up and cashing in, while Lars is sentimental about the old man's dream of twine and finds the commercial world full of gangster-suited toughies, talking out of the sides of their mouths. The factory is laid off (sound of enraged workers) and the house is visited (sound of hungry rodent).

An historical busyperson tells the new owners that this crumbling ruin is "the missing LaRue" (famous architect, much prized by collectors) and worth intellectually unacceptable amounts of money. The hapless duo set about a DIY renovation job which is thwarted by the live-in mouse. Next step: kill the critter. Step after that: mess up, fall about, do (even more) damage.
Destructive mayhem is a particular slapstick style, popular in Hollywood (remember the cars in The Blues Brothers?), that only travels well as Loony Toons. Mouse Hunt is a cartoon without animation. It should have stayed drawn. Live action only bumps into the furniture. Rookie director, Gore Verbinski, was selected after winning an award for the Budweiser frogs commercial. His mouse work (sincere thanks to the backroom boys) is clever, his people work less so. He creates an out of time atmosphere, but doesn't know what to do with it.
When the script isn't demanding that more things fall on Ernie and Lars, he is at a loss. The visual effects have a hint of wit and surreal adventure, but Adam Rifkin's screenplay lacks imagination to put them to good use. Beyond the obligatory sewage explosion and interior flood, there is a series of frenetic catastrophes that leave Lane and Evans fighting to find their feet, let alone their identity.
Reviewed on: 19 Jan 2001
Share this with others on...