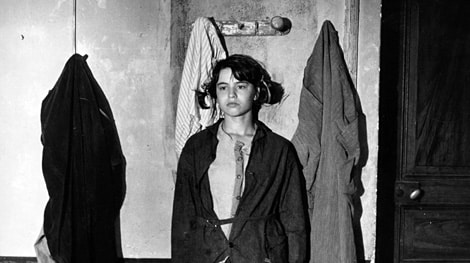 Don't despair, it's worse in the country. Robert Bresson's film, made in 1967, understands the sensitivity of those who have no friends. Mouchette is a girl from an impoverished family. Her mother is dying of cancer. Her father physically abuses her. When the baby cries, she is expected to clean him and feed him. At school, smarter girls tease her for wearing clogs and being a peasant. When she earns money at the tavern for doing odd jobs, her father pockets it. She has nothing.
As well as Mouchette's story, there are others in the village, especially that of the law enforcement officer (not exactly a policeman) and the feckless poacher, who vie for the affection of the barmaid. One night, when Mouchette is trapped by a storm in the forest on her way home, the poacher finds her. What happens then is at the heart of this tragic tale. Bresson is doing what he loves to do, throwing salt into the wounds of romance. Nothing feels gratuitous. Life is torn between inequality and rejection. Take a deep breath. There are no placebos here. It hurts. And it goes on hurting.

Nadine Nortier brings to the title role an intensity far beyond her years. The film is a recognition of innocence as a power that operates without guide lines. Mouchette's sexuality would make no sense to her and yet it is there. Once more, Bresson empathises with the outsider in a film of genuine feeling.
Reviewed on: 19 Jan 2001
Share this with others on...