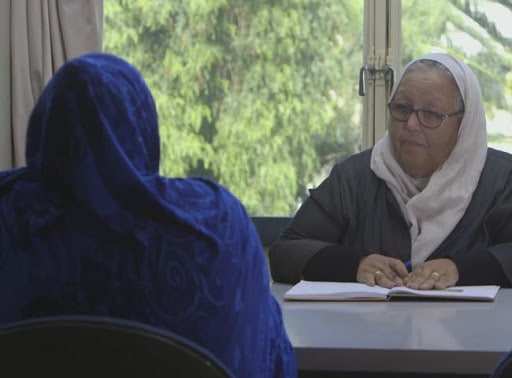 As campaign to repeal Morocco's Article 490 - which makes it illegal for anyone to have sex outside of marriage - continues, the subject continues to crop up in films from the region, particularly with reference to pregnant women, who often come late to medical treatment or avoid it at all because if they present to a hospital to have their baby out of wedlock, they face arrest. Recent fictional treatments have included Meryem Benm'Barek-Aloïsi's Sofia and Maryam Touzani's Adam and now Myriam Bakir considers the issue from a documentary standpoint.
She takes her camera inside the buildings of the Oum El Banine association in Agadir, which offers refuge and support to pregnant girls, while trying to broker reconciliation with their families. The organisation is run by Mahjouba Edbouche who we see going about her day-to-day business, along with their team as they offer a mix of forthright advice and sympathy to the girls who come through their doors. The director protects the identities of the pregnant women and new mums involved, shooting them from behind or below neck level, so that we still get a feel for their body language.

Understandably, emotions run close to the surface for newcomers and we also get a sense of the wider challenges facing Oum El Banine as the staff discuss running short of food and talk about recent donations. Running at just an hour, presumably with a television slot in mind, Bakir keeps the focus tight on the sessions between Edbouche and her staff and the young women. We see one case, in particular, unfold, as Edbouche speaks first to the pregnant girl and then to her parents over the phone - the cloak and dagger discussion a reminder of the dance on the edge of the law - before they come in to the offices to see their daughter face to face.
In between times, Edbouche offers insight into the issues within the country, talking about the way that cultural changes towards more liberal attitudes have not been matched by a shift in the law. It's not just women who find themselves criminalised either, with pregnant girls encouraged to accuse men of rape even if the sex was consensual, in order to avoid being jailed for the offence.
More from the young women themselves, would be welcome - we see them in conversation but never offering their own thoughts independently and the same goes for the parents involved, although it may be that reticence prevented this. Even in this shortened format, the film would have benefitted from a broader scope, perhaps bringing in additional voices of the volunteers regarding their opinion of the situation or of why they chose to work for Oum El Banine.
Despite its limitations, this is nevertheless an informative look at the real life repercussions of a system that penalises the pregnant without thought for mother or child, which shows families are, generally, much more flexible and forgiving than the law.
Reviewed on: 07 Apr 2021
Share this with others on...