Eye For Film >> Movies >> Mogul Mowgli (2020) Film Review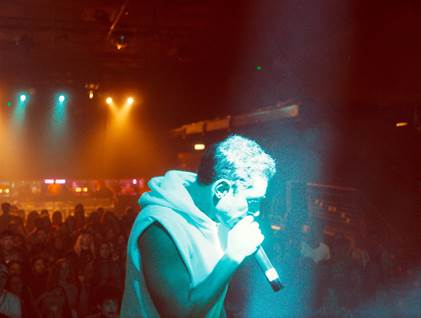 The construction and conflicts of cultural identity and self-definition form the bedrock for this debut fiction feature from Bassam Tariq, which screens at London Film Festival later this month. The story is, on the face of it, a simple one - concerning British rapper Zaheer (Riz Ahmed), who, on the brink of his big break (now using the Anglicised name Zed) finds himself hit by a potentially degenerative illness that sends him back to the bosom of his family - but the film's ambitions regarding Zed's sense of self are complex.
Zed's raps - delivered with such energetic verve by Ahmed in key scenes that he could consider an alternative career in music - are all about his roots and what being born in Britain to Pakistani parents means to him. But the philosophy of his lyrics finds itself banging up against reality when he begins to suffer muscle weakness on the first visit to his parents Nasra and Bashir (Sudha Bhuchar and Alyy Khan) in two years.
Despite his roots-based songs, Zed has an air of weariness about many of his family's traditions - a sentiment that many from any cultural background who have been away from the parental home for a long time can relate to. But later, in dream sequences brought on by his hospital treatment, his experiences begin to mingle with those he imagines his father went through as he fled on a train during Partition. Toba Tek Singh - both a place in Pakistan that suffered during Partition and a short story that ends with a man caught in a no man's land between Pakistan and India - is personified here by a man whose face is shrouded in flowers. His character goes largely unexplained in the script by Tariq and Ahmed, which relies heavily on allusion to events, so those who have a knowledge of it going in are likely to feel the impact of these hallucinatory interludes more than those who don't. Still, this glimpsing of a heritage that is at once vivid but stubbornly fragmentary gives a strong sense of the fluid nature of Zed's sense of self.
Rap is a rapid-fire art form, washing you in a torrent of thoughts, the beat carrying you through, and Tariq's film has a similar approach, but there are so many ideas being fired out that it's no wonder it sometimes struggles to retain its rhythm.  Tariq sustains the central tension between Zed's sense of self, being further eroded as his body rebels and the warmth generated between Ahmed and Khan brings emotional heart to a film whose central character is by nature spiky. But a subplot concerning Zed's potential loss of fertility is more tacked on than tactile and the rapper's relationship with his girlfriend Bina (Aiysha Hart) also feels more like fuel for his journey than a real-life bond.
Reviewed on: 04 Oct 2020
Share this with others on...