Eye For Film >> Movies >> Mise-En-Scene 2 (0) Film Review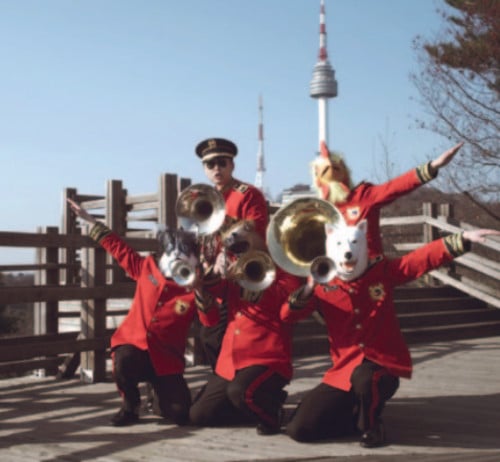 The Mise-En-Scene programme at this year's Korean Film Festival showcases a selection of short films from some of Korea's up-and-coming filmmakers. The films are chosen from the Mise-En-Scene Short Film Festival, behind which lies some of Korea's most internationally well known filmmakers including Bong Joon-ho (Mother, The Host) and Park Chan-wook (Oldboy, Thirst).
Each of the two festival shorts programmes focuses on a particular theme, and this second programme centres on how different people deal with a variety of surprising, dangerous or just plain weird situations that interrupt their daily routines. The result is a genuine mixed bag of curiosities that takes in serial killers, brass bands and human trafficking.

The Brass Quintet (3 stars)
Yoo Dae-Eol's film, pictured above, is a charming and warm look at what must be the most dysfunctional brass band in history. Sergeant Shin, 100 days away from the end of his national military service, has formed a brass quintet with his military band mates to record a commemorative album. Unfortunately they are at best a clumsy and dense lot. While the band is in session one day they receive, due to an officer's determination to use them at his sister's wedding, the chance to get off-base for a day. But outside of their base's daily routine, things quickly go wrong. This film is slapstick fun all round, with a likeable cast that work well together as they tussle and argue through to a redemptive (of sorts) final musical flourish.
Last Homecoming (2 stars)
This short murder drama from director Kim Joon-sung, looks to twist audience expectations. It is relatively successful in creating a moody, threatening atmosphere, but the payoff doesn't feel particularly smart or novel. Sunyoung, like any other day, is travelling one evening from working extra hours to meet Sunju, a college freshman who just came up to Seoul to attend college. Sunju, however, has got herself drunk and on the wrong bus, and is now stranded in an unfamiliar Seoul neighbourhood.
The two maintain a tenuous phone connection during Sunyoung's bus trip, with one particularly tense scene where they try connecting via video chat as Sunju senses someone following her. With a dying phone battery and only a mysterious stranger appearing to offer her a ride home, Sunju seems to be blundering into peril. But what if it is Sunyoung who is really in danger?
Frozen Land (4 stars)
This film, which deservedly won an award at Cannes, takes us into a more seedier corner of Korean life - people smuggling. It is a gritty and well-acted foray into a stark and hopeless world, where immigrants are shunted around like cartons by boys barely out of school, bored and seemingly as exploited as the immigrants are.
This is life on the borders. Kyung-jae and Byung-jo, who make money from smuggling illegal immigrants from China into South Korea, find that all of their latest immigrants have died, except a young woman, while being transported in a refrigerator van. Kyung-jae and Byung-jo have to decide whether to kill her or not, as she is the only witness. But when the woman offers up her hidden funds as a bribe to save her life, Kyung-jae has to decide whether or not to double-cross his scheming boss or not.
Reviewed on: 16 Nov 2010
Share this with others on...