Eye For Film >> Movies >> Midnight Express (1978) Film Review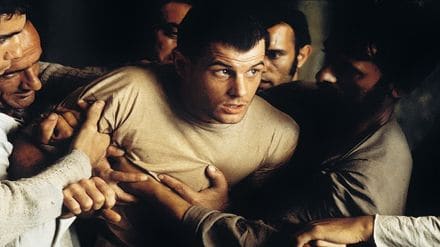 Turkey had a bad press day when Torture Hell In Istanbul headlined the premiere of Alan Parker's second film in 1978. Here was a hard-hitting, ruthlessly honest account of a young American's experience of being locked up in a throw-away-the-key situation miles and years from home.
The film preceded Abu Ghraib and Guantanamo Bay by two decades. Things have changed, changed for the worse, and Midnight Express looks even better now, because what once seemed artistically fabricated to steal the best of the light - no one was allowed to forget that Parker cut his teeth on TV commercials - appears beautifully shot in natural settings.

The performances have matured with age. Brad Davis displays symptoms of the Jimmy Deans; John Hurt is majestically stoned; Randy Quaid flares like a Texan gusher. Parker refused to compromise for the sake of expediency and would not allow subtitles to accompany the Turkish speakers, which, in this post Dances With Wolves era, when Hollywood titles everything from a Glaswegian belch to a toddler's mumble, adds another layer of authenticity.
Billy Hayes's story is based on truth, which is another way of saying: "We have changed the facts to fit the film - but not much," and Oliver Stone's script employs none of his later zeal for polemics and the art of the conspiracy theory.
When Billy is caught by customs officers at the airport with slabs of dope taped to his body, he is put away for five years in Istanbul's notorious jail. With only 50 days left of his sentence, a higher court in Ankara reassesses his case and he is told that he must spend the rest of his life inside.
There are scenes of torture, the worst of which occurs off screen, and others of homoerotic affection, which are softened into balletic tableaux. Parker applies restraint, compared to modern prison movies, although at the time he was pilloried for the pitiless violence.
The film stands up better than you might expect and Davis's performance is so strong, it should have heralded a glittering career. Sadly, he never had the opportunity to do anything remotely as good again and died young of Aids. Midnight Express was his first film.
Reviewed on: 20 Dec 2004
Share this with others on...