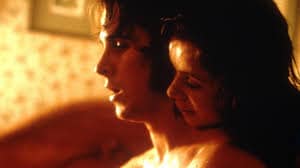 Chris (Christian Bale) lives in the suburbs with his wife, Marion (Emily Watson) and baby girl, Amy (Daisy and Bethan Fairbairn). He has a job at a London ad agency and a mortgage. He washes the car every Saturday, like everyone else. He weeds the garden. He's happy. Or so he says. Chris is boring. He doesn't know it. Marion is cleverer. She's boring, too. The marriage has been going eight years and is running out of steam. Not that steam was ever an ingredient. Sex doesn't happen much now. When it does, Marion looks shocked. She says she loves Chris. She doesn't say things she doesn't mean.
Toni (Lee Ross) was Chris' best friend when they were growing up. They used to rage against the bourgeoisie, hated suburban values, dreamed of Paris, escape, French kissing on a bridge in moonlight. Eventually Chris went there and lived with Annick (Elisa Zylberstein), who persuaded him that making love like a bull in a china shop was not what a Gallic girl wanted. In 1977, Toni returns from the States, with a freewheeling Californian girl, and visits Chris. He is still behaving like a Sixties swinger and tries to seduce his old mate away from the life they both despised as teenagers to a sex, drugs and punk music alternative. Chris is tempted, but guilt gets the better of him. He wears sideburns, which are not very attractive, and a tie. He has not so much changed, as reverted to what he always was.

The film flashes back and forth, from sexual education with Annick (Zylberstein, so memorable in Mina Tannenbaum, is strangely unrelaxed) to midnight wanderings in pyjamas and overcoat, from Ross overplaying the unctuous stud to Bale looking gauche at the sight of naked flesh. There is nothing erotic about any of it and an 18 certificate seems overzealous. The design (Don Taylor) and costume (Jenny Beavan) departments recreate the period so well you are reminded why the Seventies never meant much. Bale and Watson cannot be faulted. They do what they do with diligence. Whether this is a proper reflection of Julian Barnes' first novel is academic. You know you've been here before - an Englishboy's rites-of-passage to middle-class tedium - and you don't want to stay.
Reviewed on: 19 Jan 2001
Share this with others on...