Eye For Film >> Movies >> Message In A Bottle (1999) Film Review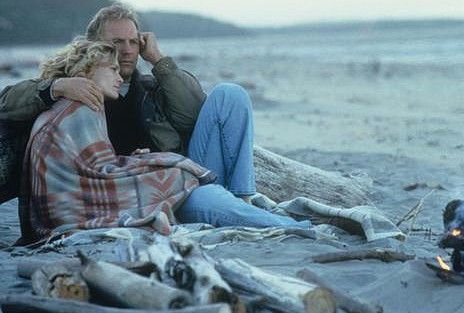 While jogging on the beach, don't stop for bottles. One might contain a letter, which, through the magic of cinema, will whisk you into the arms of the most boring man in North Carolina.
It happened to Theresa (Robin Wright Penn), a researcher on the Chicago Tribune, divorced with son, fabulous-looking, a great mom, living in a spotless house, with - can this be possible? - no boyfriend. The boring guy is Garret (Kevin Costner), a boat builder, still mourning the loss of his wife, living by the sea in an equally spotless house, saying, "I cook the best steaks." Wow!
The glossy magazine spin to this innocent touchy-feely romance destroys all faith in the advancement of human intelligence. Watching Theresa is nice, as is the appearance of Paul Newman, as Garret's dad. He's a scrappy oldtimer, who likes to tell you that he's off the sauce. Well, almost. "Two beers a day, goddamit!".
Ballads by Beth Nielsen Chapman, Marc Cohn, Sarah McLachlan, Sheryl Crow et al (soundtrack album on Atlantic) fill the gaps between tentative exchanges and a full frontal snogging sesh. The movie goes on and on. Garret flies to Chicago for a visit and is boring there, too. Theresa's son likes him, which is allowed, since he's young and doesn't know any better. Will she chuck her job? Will you chuck your lunch? Will he build the perfect boat? Will she remove her shoes and socks? Will he say something interesting? Will they get together? Don't wait up.
Reviewed on: 19 Jan 2001
Share this with others on...