Eye For Film >> Movies >> Men Of Honor (2000) Film Review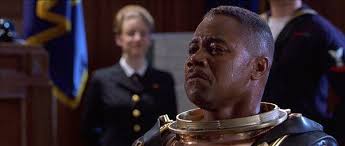 Carl Brashear was a poor black boy from the South who wanted to become a diver. He was told that it could never happen. There were only certain posts available for a man of colour in the US Navy in the Sixties - cook or officer's valet.
Enough movies have been made on the theme of perseverance against impossible odds. It is great tear-jerking material. Anything to do with courage always is and this is based on a true story.

This time, the hero starts with every disadvantage except two, he loves his mammy and respects his daddy, whose last words, as he boarded the recruitment coach, stayed with him throughout his life: "When it gets hard, don't quit on me. Ever."
Character building biopics have a formula, which has Made In Hollywood stamped all over them. Cliches are dropped like depth charges into the belly of the life. They should be treated as petty irritants. What matters is commitment. Do the actors care enough to make it feel real?
The answer is yes.
Robert De Niro is Master Chief Billy Sunday, a Navy diver of the old school, who was injured when saving another man's life and now teaches recruits how to operate under water in what looks like giant space suits. He is the equivalent of a short-tempered sergeant major, all mouth and a bucket full of prejudice.
The man is ill-defined. At one moment, he is talked of as alcoholic and violent, at another fearless and impulsive. He has an attractive young wife (Charlize Theron), who is not given enough attention, nor allowed to justify her existence.
Cuba Gooding Jr takes the lead with the confidence of an Oscar-winner. Carl is not a complicated man. He is driven.
"Why do you want this so badly?" he is asked.
"Because they said I couldn't have it."
The Navy is portrayed as racist. The officer in charge of the divers school is mad. Master Chief Sunday should have been flung out of the service for aggressive insubordination at least twice. Carl is insulted, humiliated and ignored on a regular basis and yet keeps coming back for more. Is this tenacity, or masochism?
It is pride. The kind Americans love to cherish. For those who can't stomach such sentiment, there is always De Niro in full flow, which is a sight to see.
Reviewed on: 22 Mar 2001
Share this with others on...