Eye For Film >> Movies >> Memories Of My Father (2020) Film Review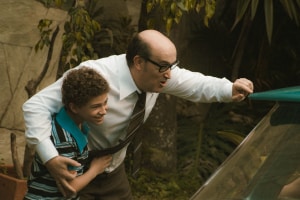 Fernando Trueba's latest film - which was Colombia's submission for this year's Oscar race - is a well-made, if rather languorously paced adaptation of Héctor Abad Faciolince's book about his father, Héctor senior. It is adapted by Trueba's brother David, also a director and a careful crafter of tales like Living Is Easy With Eyes Closed and one wonders whether if he had also taken the helm here, whether the end result might not have flowed a little more freely.
The film largely unfolds across two time periods, the mid-eighties, which are realised in black and white and the meat of the film, which is set in the 1973 of Héctor Jr's childhood shot in full colour with a honeyed glow. That sweetness of look reflects the gentle warmth of Héctor Sr (perfectly embodied by Javier Camara, who always lifts a film with his easygoing charm). A university lecturer who cared enormously about the community of Medellín where the family lived, he campaigned tirelessly for better healthcare - something which saw him branded both a Communist and a Fascist at various points of his life and that led to a sabbatical abroad.
The rather bleak political world is, perhaps, reflected in that decision to use black and white for the film's book-ends, although whether it really needs such a stark stylistic choice is debatable when the heart of the film works well enough without it - still it does give Trueba the opportunity for a couple of surprising and effective segues between the two time periods. The main focus is the family, with Héctor "Quiquin" Jr (Nicolás Reyes Cano, replaced by Juan Pablo Urrego for his later years) offering us his perspective on the life and work of his dad.
The way Héctor Sr is with Quiquin and his sisters - indulgent but quick with a life lesson, sceptical of religion but not disrespectful - mirrors his attitude outside the home, as he pushes for access to clean water and vaccination. There's a relaxed warmth to the, largely, lowkey events, that encourages us to cosy up to the family, with Camara injecting a twinkly impishness at just the right moments. The director does indulge himself rather with melodrama towards the end of the film, all of which is much more forced than what has gone before but this is nonetheless a loving and welcoming portrait of a low-key community hero who practiced what he taught.
Reviewed on: 26 Mar 2021
Share this with others on...