Eye For Film >> Movies >> Material Girls (2006) Film Review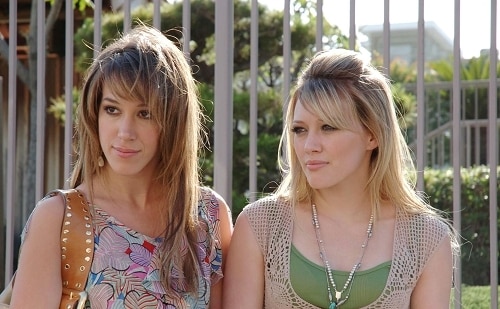 Perleeeeeze!!!
"I don't think low carb is going to hit it this morning. I am SO bloated! I need to cleanse."

Celebrity L.A. is another planet. Without a boarding card and a brain the size of a gopher's testicle, you don't make it onto the red carpet. The Marchetta sisters are famous for being the Marchetta sisters. Eva (Haylie Duff) is a 19-year-old Faye Dunaway lookalike and Tanzi (Hilary Duff) is a 20-year-old Liz Hurley lookalike. Their dad, the even more famous cosmetics tycoon, died. That doesn't happen to a guy as rich and handsome as Daddy Marchetta, but it did – the less said the better, which is why no one talks about it. The girls don't wear black and they don't hang around with mom, who is somewhere else with a toyboy. They party.
Once you have recovered from the full gloss sexiness of these girls and forgiven them for their mind-numbing dialogue ("I'm getting an attention headache"), there is a script team – go Marchettas go! - checking out the designer stereotypes and making a move towards the foyer.
Someone wants to buy the business, but first they have to diss it. Reports of skin rashes and boils, due to using Marchetta products, start appearing on local TV news. The girls are thought to be such airheads that they will roll over and sell cheap to the nearest bidder from the sheer embarrassment of it all. But, hey!, they are Charlie's Angels in disguise and set about exposing the TV reports as phony. Natch, they have the support, both professional and emotional, of the best looking boys who don't go to parties. Henry (Lukas Haas) is a shy lawyer, who works for the underprivileged – that's a joke when applied to the Marchettas – and Rick (Marcus Coloma) is a student chemist.
Even in the featherweight league of teen-coms, Material Girls has little to offer but spoiltspeak ("Friends don't let friends take public transport") and disco wear. Anjelica Huston hoves into view like a renovated schooner in search of Johnny Depp. She plays Fabiella, cosmetic rival and full on manipulative witch, oozing charm as if it was a double cream latte. "Now, I know things have sucked big time, girls," she purrs, offering love in a bun, while scheming behind their pert derrieres to steal daddy's prize. Also, on hand, as the Marchetta's CEO, is Star Trek's Brent Spiner, camping it up like a Liberace nostalgia night DJ.
Occasionally, a line hits the mark: "Where's your sister? I thought you were borderline Siamese." Occasionally, a situation shows promise, as when Eva finds herself in the holding pen, with three nut-tuff dykes. Mostly, it's giggles in a glass and share-care togetherness.
"You have been such a downer recently, I am going to have to give you some of my Prozac to chill you out."
Tweet!
Reviewed on: 27 Feb 2007
Share this with others on...