Eye For Film >> Movies >> Magic Mike (2012) Film Review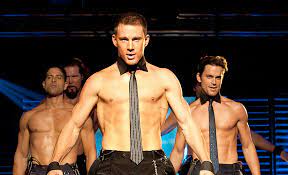 One of the unlikeliest projects of the year also turns out to be one of the richest and most satisfying, thanks to the united efforts of a formidably talented crew; Channing Tatum continues his post-21 Jump Street charm offensive, Matthew McConaughey secures his career resurrection and Steven Soderbergh's prolific genre-hopping streak hits real pay-dirt after the mixed responses to Contagion and the Tatum-featuring Haywire. On the surface, a film about the exploits of a band of male strippers should be either a Showgirls-style guilty pleasure or a Judd Apatow-esque gross-out sex comedy - that Magic Mike is neither of these is a testament to the skills of all involved as well as the lived-in sense of reality brought to the script by Tatum's own formative experiences.
In sun-kissed Tampa, trouble-making teen Adam turns to go-go dancing when he finds himself fired on his first day from a roofing job. Guided by the eponymous Mike, 'The Kid' becomes the new attraction for ringleader Dallas' popular troupe, who have upwardly mobile plans to take their show on the road. The party-hard excesses of the group don't go down well with Adam's more sensible sister Brooke, but her example may offer some redemption to the increasingly disillusioned Mike. Their tentative romance is threatened by Adam's out-of-control lifestyle, while Mike's position in the group appears up-for-grabs if he doesn't bow to Dallas' authority.

The film starts pretty much the way you would expect, with a crowd-pleasing McConaughey riling up his audience before a fully naked Tatum struts across our screens with all the cheeky irony of someone who's well aware of their eye-candy status. The tale of Adam's corruption is as predictable as they come, but Reid Carolin's script gives viewers everything they could ask for while subtly exploring the neuroses and narcissism that go hand-in-hand with taking your clothes off for cash.
The crux of the film is brilliantly laid bare during a pivotal scene where horrified Brooke is given a crash course in her little brother's new vocation. Having suffered through his amateurish act, the camera studies her wordless contempt as Mike elevates his routine into something of an art-form. Soderbergh scans her face for begrudging respect - a sentiment reflecting the audience's own provocation - but when the rabid female crowd get a little too involved in Tatum's stage-show, Mike shifts from tease to sleaze, while Brooke's mounting disgust speaks volumes about the whole sordid business.
The boys shallowly declare their priorities as being money, women and a good time, but their attitudes are undercut with the sense that they're living in denial regarding the true measure of their worth as well as how happy they really are. Tragically, Mike has conned himself and doesn't even know it; his journey is one of self-realisation, as he only grows up when he sees how everyone else around him never will. His entrepeneurial spirit shows him to be a naive charlatan with fingers in several pies that are probably never going to be fully baked; the script plays his bespoke furniture career for low-key laughs while Tatum secures our sympathy with the sincerity of his performance.
Soderbergh wisely avoids camping it up, and in a film with this much in-built homo-eroticism, he resists flirting with anything too far beyond the heterosexual pale. The film's bisexual female characters are dealt with in a matter-of-fact manner that conveys how all this permissiveness can result in a sad loss of real human contact. The director's eye for detail lifts the potentially laughable material, with the welts on Pettyfer's skin plain to see during a training sequence that highlights Dallas' literally back-slapping approach. The staging of the strip routines confidently concentrates on the performance aspect, with comedic costumes deployed but never abused.
Straight men may well squirm in their seats but many women will struggle to resist mirroring the crowds onscreen; whoop-along repertory screenings could well become a fixture in years to come. The mesmerising dancing of the astoundingly lithe actors is undeniably impressive though, and there's a real emotional pay-off to the characters' trajectories. Alex Pettyfer shines as the arrogant new kid on the block and Cody Horn is something of a revelation as Mike's disapproving love interest, while McConaughey builds on his Killer Joe performance with the feral and slimy Dallas, but this is Tatum's show through and through. The young actor hits all his beats effortlessly and the mumble-core pretension that has hindered his past dramatic roles in the likes of Dito Montiel's A Guide To Recognizing Your Saints and Fighting is mercifully kept to a minimum.
Frank, funny and immensely entertaining, Magic Mike is a brilliantly bittersweet cautionary fable in the tradition of PT Anderson's Boogie Nights, with some of the most insightful examination of machismo since the criminally under-rated Goon. Soderbergh's style is a perfect match for the material, showing rather than telling while infusing his story with knowing satirical touches. The climactic bender slips into colour-coded music video indulgence, but apart from that his handling of the deceptively clever script is commendable, while he elicits committed performances from his bulging ensemble. Tatum has well and truly redeemed himself for his early career mis-steps, and if the recently-announced sequel seems like an unnecessary proposition, the surprising success of this film will at least give it a chance of being taken seriously.
Reviewed on: 16 Jul 2012
Share this with others on...