Eye For Film >> Movies >> Life Just Is (2012) Film Review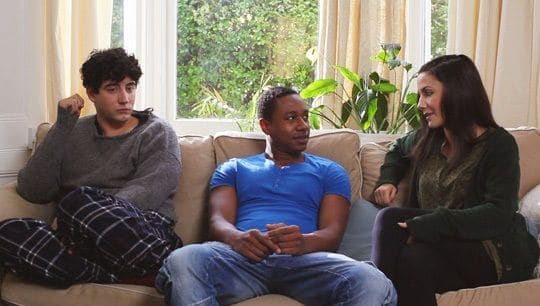 Offering a British twist on the mumblecore genre, writer/director Alex Barrett's debut feature doesn't lack bravery. While his film's American cousins generally feature loose, often improvised scripts to consider sex or the lack of it, Barrett is much more concerned with exploring philosophical and existential affairs in this tale of young Londoners in a holding pattern between university and the rest of their lives.
Tom (Nathaniel Martello-White), David (Will de Meo) and Pete (Jack Gordon) are a fairly typical gaggle of housemates, although demographically - two are white, one gay, one black - there is a sense of boxes being checked to appeal to the widest possible audience base. Tom and David are already taking tentative steps in the world of work, while Pete is more interested and not a little bit worried about the existence or otherwise of God. Pete spends his days in the house alone, considering Kierkegaard, and his nights waking in a cold sweat, and the three of them occupy their off-hours in the house socialising with pals Claire (Fiona Ryan) and Jay (Jayne Wisener). Tom and Claire are at the will we/won't we stage on the friendship to romance scale, while Jay seems (surprisingly) bothered by the fact that her new bloke Bobby (Paul Nicholls, who looks rather too young for the part) is a decade older than she is.

Barrett explores their lives, hopes and expectations over the course of a week and, as such, his film is likely to most appeal to audiences of the same age and undergoing the same experiences as his characters. Although some of the philosophical questions being raised are interesting, they never quite fall in step with the day to day machinations of the pals' lives. When called upon for small-talk, the dialogue has a tendency towards the stilted, and the frequently locked-off shots give a feeling of stasis that is unnatural in such a young household.
For all his addressing of 'bigger' questions, when it comes to the more everyday emotions such as romance and grief, the sentiments have less of a ring of truth. On learning of the death of a friend, for example, there is a lack of spontaneity to the reactions - and a general lack of the characters physically interacting with one another - in the real world surely someone would give the girl who is upset a hug?
Barrett's script is at its strongest when it sticks to intellectual arguments, as segues between God talk and humdrum chat over the dishes are tricky to pull off, and Gordon deserves praise for bringing believability and heart to Pete, even when he is talking about the finer points of existence. Martello-White provides an amiable everyman-style foil, although the other cast members - particularly Ryan, who is playing English and fighting her native Irish accent every step of the way - have more varying degrees of success. You can't help coming away with the suspicion that this would work better on the stage than on the big screen, where a lack of naturalism would be more easily absorbed.
Reviewed on: 20 Jul 2012
Share this with others on...