Eye For Film >> Movies >> Letters From Baghdad (2016) Film Review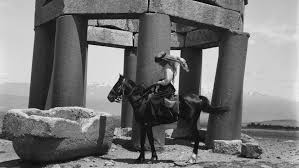 Fluent in Arabic and Persian, Oxford educated Gertrude Bell, turned archeologist, diplomat, writer, photographer, cartographer, and suspected spy, had a fascinating life that far too few know about. Through an excellent selection of archival footage, mixed with Bell's photographs, we are taken on a journey with a woman who was determined to make a difference.
And she did, on her own terms. From being confronted by TE Lawrence to being an Ottoman Empire concern, Gertrude Bell overcame a remarkable number of barriers put in front of her. The unusual, and in this case very effective, choice to have impeccably dressed actors talk to the camera in their roles as Bell's contemporaries, gives the documentary a charming playfulness.
As the voice of Gertrude, Tilda Swinton seductively pulls us in, reading her letters sent from afar to her father in England and to those whom she admired (mostly men). Gertrude's face remains her own; no actor plays stand-in for this central persona.
Early on, Vita Sackville-West introduces us to Gertrude by commenting: "There she emerged out of the desert with all her evening gowns and cutlery." In Oxford she had been first in history - "I love this place" she wrote in May 1886 upon arrival at the university. Eager to escape England and the boundaries placed around women of the time, in 1892 she leaves for Tehran, "the Garden of Eden," as she called it and soon has her first Persian lesson, "with a sheik, who is a darling."
Later when she writes "I have become a person in Syria," the readings can be manifold. Her relationship with Henry Cadogan leaves a mark for life whereas the first encounter with the great Lawrence of Arabia mainly stands out because of his smugness and the fact that she was interrogated for an hour and a half and stood her ground. A stunning photograph in front of the Sphinx shows "Mesopotamia's uncrowned queen" flanked by Winston Churchill (the only one sporting sand goggles) and TE Lawrence - all on camels.
Zeva Oelbaum and Sabine Krayenbühl beautifully emphasise the underlying, conflicted emotions stirring inside Gertrude Bell through archival footage of wild desert grasses, the wind blowing and nature swaying. Carefully chosen as it is here, these moments are a rare treat in a documentary. Some scenes mirror each other in movement - a maypole dance links to whirling dervishes and finds its synthesis in the same maypole footage in reverse. The effect is subtle and unmistakably enriches our experience. Lots of dogs and birds of times past also found their way into surprising limelight - a healthy hint that history does include far more than privileged white male humans.
Two love stories present to us some of the private Gertrude's upheaval of the heart. Never, though, are they used to overshadow her accomplishments. English Vice Consul Lieutenant Colonel Wylie ("Call me Dick") and his wife are more than signposts. Not just one-to-one political information clips, the archival images set the mood. Nature is present at the moment when Dick is writing "My wife doesn't see my letters." It's all in there. We can do the rest, the reading between the lines is graciously not done for us. The news of his death during the Dardanelles Campaign on Gallipoli is casually mentioned to Bell at a dinner party - another terrible blow for her - "perhaps there's not enough sun to keep us all warm," she concludes.
Far from giving up, she embarks on new adventures in Egypt, where she helps David Hogarth of the National Geographic Society with her vast knowledge of the different tribes. The world is changing, British and French spheres of influence are shifting, Baghdad is captured from the Turks. Gertrude is in the center of it all and often the only woman. She does befriend Dorothy Van Ess, who with a twinkle in her eye, states the reason why they got along so well: "I do have a university degree and I do speak Arabic."
Bell left her formidable mark on more than just the maps of the world. Her influence on the Middle East still resonates today. She prominently figured in establishing the borders of modern Iraq and, more or less, chose the man to be the country's first king. Gertrude Bell was appointed Iraq's Honorary Director of Antiquities, following the First World War, and was influential in creating the collection of artifacts in the Iraq Museum that was looted and devastated in 2003.
Reviewed on: 19 Apr 2017
Share this with others on...