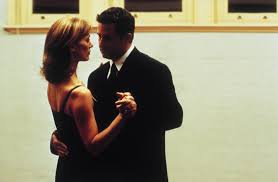 Glittering with Oz awards, Ray Lawrence's first film since Bliss (1985) is a dark and cynical piece about trust and death. There is not much of the former and evidence of the latter.
Based on Andrew Bovell's play, Speaking In Tongues, it explores bad marriages, emotional denial, romantic delusion and the mind of a policeman who is cracking up. The writing is razor and the plotting manipulative.

Production values and performances are exemplary, with only a nagging tendency to resort to flashbacks. Liking the people is the problem.
Anthony LaPaglia has been playing Hollywood tough guys for over 10 years. Now he returns to Australia to play another tough guy, Leon, the cop who is cheating on his wife, while investigating the disappearance of Dr Valerie Summers (Barbara Hershey), a fashionable psychiatrist, married to John, an academic (Geoffrey Rush).
Their relationship has drifted into decay. He's a dry stick and she's a passionate woman.
Leon's wife (Kerry Armstrong) feels her husband's rejection and hates the workaholism that exhausts and devours him.
Jane (Rachael Blake), Leon's bit on the side, recently separated and refusing to accept that her lover treats their casual liaison as if it was a one-night-stand, feels trapped in sexual limbo, all confidence gone. "Some women like to live the lie. It's easier than facing up to the truth."
Is this a thriller, a murder mystery or a circle of deceit, in which all the characters interconnect?
"Trust is as vital to human relationships as breath is to life," Dr Summers says. Not that it does her any good.
Reviewed on: 06 Mar 2002
Share this with others on...