Eye For Film >> Movies >> La Grande Vadrouille (1966) Film Review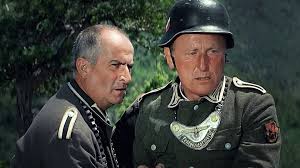 Terry-Thomas and the RAF are made for each other and yet this is a French farce basting le roast beef in order to make fun of the Hun. A perfect match.
Sir Reginald's (T-T) bomber is shot down over Paris. He and his two man crew - good looking chaps with impeccable manners and limited initiative - parachute into the city which is occupied by the enemy. Having survived the drop they must stay out of sight of Jerry and somehow make their way to Switzerland.
Sir Reg, emboldened with a classical full breakfast tache, is as recognisable as a union jack mug. For the sake of his country and his life the face furniture has to go which makes it hard for his compatriots to find him at the rendezvous - until he opens his mouth. Helping and sometimes hindering their escape is Augustin Bouvet (Bourvil), a hapless house painter, and Stanislas Lefort (Louis De Funes), an excitable conductor at the opera house.
This double act is what lifts the film into realms of comic genius. The secret is playing it straight and letting the characters respond to ever decreasing normality, involving have-a-go nuns, Turkish baths and flat footed Germans.
At a time when Brit flicks were Carrying On with seaside postcard humour the French, or rather writer/director Gerard Oury, lead the way in style with something as wonderfully idiotic as this.
Reviewed on: 08 Dec 2016
Share this with others on...