Eye For Film >> Movies >> Jumanji: The Next Level (2019) Film Review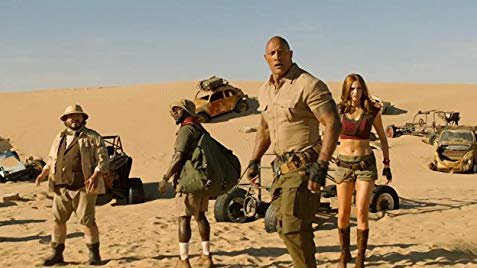 When Jumanji returned more than 20 years after Robin Williams first rolled the dice, it had been updated for the gamer generation - a move that allowed for a winning combination of body-swap/Jewel Of The Nile adventures. It didn't take the filmmakers another two decades to realise they were on to a successful formula and so now, it's game (back) on for Spencer (Alex Wolff), Martha (Morgan Turner), Fridge (Ser'Darius Blain) and Bethany (Madison Iseman).
With this sort of film, the real world framing device tends to feel a bit like doing your homework before being allowed to go out and play, but returning director Jake Kasdan and his co-writers have added a decent amount of grit here, by having Spencer experience the kind of loneliness that often comes to young people when they first leave home - a loneliness that has, ironically, also led to him distancing himself from his existing friends, including love interest Martha. Returning to his mum's for Christmas, he finds himself rooming with his grandad Eddie (Danny DeVito), who is recovering from a hip operation. Perhaps its no surprise, then, that he longs for the adventure - and the superior chops - of his game avatar Smolder Bravestone.

As is the way of such things, he gets more than he bargains for when Eddie and his grandad's estranged buddy Milo (Danny Glover) get sucked in along with him - and he finds himself stuck in a body he didn't expect. The success and freshness of this sequel depends on this switch, as its now Eddie who finds himself in the hunk of punching prowess that is Dwayne Johnson's Bravestone, while Milo is transformed into Kevin Hart's zoologist and Fridge finds himself inside Jack Black's overweight cartographer. Only Martha remains in the same avatar - Karen Gillan's Lara Croft-style Ruby Roundhouse.
If you liked the first film, this is a lot more of the same, with the curmudgeonly DeVito adding enjoyment to the framing sequences. Johnson gets to show off his comic timing as an old man who finds himself freed rather than trapped by a new body and Hart, who arguably had the harder job last time, has considerable fun mirroring the rambling vocal style of the much older Milo. Black, who got to channel his inner airhead last time, is - no doubt because he's a white guy being asked to imitate a black teenager without crossing the line - much more muted as Fridge, but there are, thankfully, more swaps in store before the film reaches its climax.
The gaming element of the film helps it get away with some slightly dodgy CGI in places, while the action sequences, including maniac mandrills and some rope bridges, are solidly worked. Awkwafina is the real discovery here, turning up partway through to inject humour and heart in equal measure, although to say too much about her role would be to spoil the surprise.
Given its general family-friendly vibe - with the violence of the comic book style - it seems odd that one scene revolves around a gag about one of the characters being a Eunuch and therefore having "no balls". Why the writers felt the need to go for crudity, when they have some more interestingly pitched adult humour elsewhere in the script is anybody's guess, but it would be good to see them rein that in for the inevitable next instalment...
Reviewed on: 13 Dec 2019
Share this with others on...