Eye For Film >> Movies >> Joan Of Arc (2019) Film Review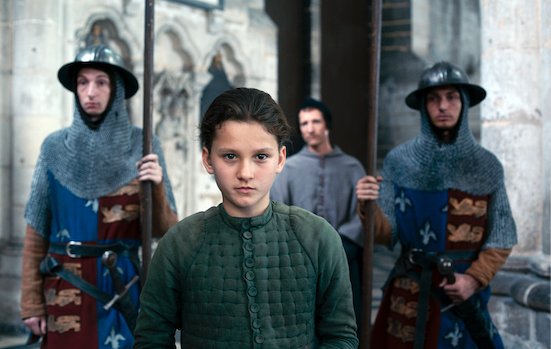 The maverick filmmaker Bruno Dumont clearly is rather obsessed with Joan of Arc - and he is not alone. Many of the French regard her as a symbol of the soul of France.
After directing a musical period-piece, Jeanette, reflecting on her childhood - which premiered in Cannes Directors' Fortnight in 2017 - he could not resist coming back to the fray with a second film which homes in on the last three of years of her martyred and short lived life.

Based on he writings of Charles Péguy, the Maid of Orléans, as she was known, kicked out the English from France, reinstated the rule of King Charles VII and was burned at the stake by Church elders who accused of her heresy.
Dumont sets about dissecting all the myths surrounding her with a forensic rigour, using the same young actor Lise Leplat Prudhomme who was eight at the time of Jeannette, to reprise the role. She brings an astonishing mix of childhood and innocence, which seemingly against the odds works in favour of Dumont's vision.
Throughout the narrative, characters keep referring to Joan as a child and that is reflected in the way the camera shows her, often in unrelenting close-ups.
Joan, as portrayed by Prudhomme, has indeed moved on from the first film, acquiring a confidence, a strength and a spiritual maturity that makes her battles credible.
One of the key scenes is the trial, shot on location in Amiens' gothic and brooding Cathedral, when Dumont's unfussy way of filming and editing comes into its own. The roles revolving around her were assigned to academics, theologians, philosophy or literature teachers, all very much at home with the subject and already connected to it. Again Dumont knows how to use non-professionals to arresting effect.
The whole film adheres to the director's credo that simple storytelling does not mean a lack of depth or subtlety, or roughness around the edges.
It is no surprise that Dumont is a great admirer of Pasolini's The Gospel According To Saint Matthew which told of the life of Christ in a spare and neo-realist manner, using ordinary people rather than actors.
Dumont's Joan of Arc doubtless will exasperate many but in its resolute convictions and examination of the human condition with contemporary resonances it becomes hauntingly powerful.
Joan of Arc is released on digital platforms by New Wave Films from 19 June.
Reviewed on: 20 May 2020
Share this with others on...