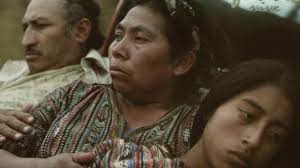 In the Guatemalan highlands, Mayan teenager María (María Mercedes Coroy) lives and works with her parents (María Telón and Manuel Antún) on a coffee plantation next to a dormant volcano. Her hand in marriage has been promised to the plantation's widower foreman - Ignacio (Justo Lorenzo) - but María is attracted to Pepe (Marvin Coroy), a fellow worker who is closer to her own age and who talks about his planned migration to the wonders of the United States.
Born out of a combination of burgeoning teenage sexuality and a desire for the unknown, María's attraction will cause problems for her family. "Will you take me with you?" she asks Pepe. "Maybe, if you're nice to me," the younger man replies - and if the audience quickly reads the man as feckless and unreliable, we can likewise see that the teenage girl is blind to it. In the aftermath of taking her virginity while her foreman-fiancé is away on business, Pepe scarpers solo across the border - leaving María behind, pregnant and with limited options.

It is not simply the marriage that is jeopardised but the security of the whole family - their employment and house rests on Ignacio's good favour. Refreshingly the response of María's parents is not a casting out of their daughter but practical solidarity - with the wedding too far away to pass the baby off as Ignacio's (the couple have barely exchanged words never mind bodily fluids), María's mother tries folk remedies to force a miscarriage but ultimately they stand by their daughter. The central relationship between mother and daughter - characterised by warm affection and based around shared rituals and practices - depicts a female world of empathy, understanding and action.
Without obvious intrusions of the modern world - there is no electricity or running water in the family's house - it is initially difficult to tell when the story is taking place; in conjunction with their indigenous spiritual beliefs, their isolated location seems timeless. When necessity forces them into the city late in the film, the change of environment is jolting, and the impact on the family is heightened by the shift in the style of camera movements - switching from thoughtfully framed figures in the landscape to frantic and discombobulating handheld movement. They are out of their element, and a socio-political point seems to also be being made in relation to how their inability to speak Spanish (they speak a Mayan language, Kaqchikel) leaves them vulnerable to manipulation by authority figures and without a way to make their voices heard.
Winner of a Silver Bear at the 2015 Berlinale, Ixcanul (Volcano) is a sensitively handled female coming-of-age tale developed in collaboration with the indigenous farming community from the region onscreen, where writer-director Jayro Bustamante himself grew up. His feature debut accords that community an opportunity to tell its own story (the actors are non-professionals) and gives international audiences a window into a different way of life.
Reviewed on: 10 Apr 2016
Share this with others on...