Eye For Film >> Movies >> I Am Not Your Negro (2016) Film Review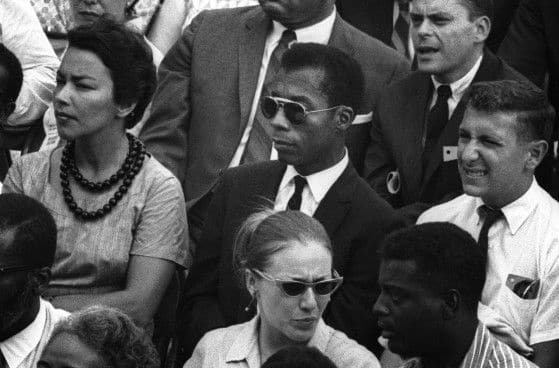 Raoul Peck uses stills, archival footage and movie clips less to illustrate than to illuminate and set on visual fire James Baldwin's spoken and written words. From very recent images of brutality to photographs of the 1890 Massacre at Wounded Knee, from frolicking white picnickers in Stanley Donen and George Abbott's The Pajama Game to an interracial couple dancing in Horace Ové's Pressure - old and new, heavy and light, the tapestry of I Am Not Your Negro is tightly woven. The full use of what film can do is eye-opening - the juxtapositions jolt awareness of what is important and remains necessary.
Based on Baldwin's 30 pages of notes for a book project titled Remember This House, Peck's extraordinary Oscar nominated documentary takes us on a journey with the writings of Baldwin, voiced beautifully by Samuel L Jackson as our guide: "History is not the past, it is the present. We carry our history with us. We are our history. If we pretend otherwise we literally are criminals." The writer's clarity cuts through the confused, entangled narratives of race in America.
James Baldwin contacts his literary agent in June of 1979 to reveal that he wants to tell the story of America through the assassinations of Medgar Evers, Malcolm X and Martin Luther King Jr. We hear: "The summer has scarcely begun and I feel already that it's almost over. I am about to undertake the journey and this is a journey to tell you the truth which I always knew that I would have to make. I am saying that a journey is called that because you cannot know what you will discover on the journey. What you will do with what you find, or what what you find will do to you."
Martin Luther King Jr is seen in news footage during the 1955/56 Montgomery, Alabama Bus Boycott saying: "Not only do we have a right to be free, we have a duty to be free."
The first look at James Baldwin in I Am Not Your Negro is an appearance on a talk show in 1968, hosted by a naïve and condescending-sounding and clearly uncomfortable Dick Cavett, being unable to use the word black in front of his audience, when he attempted to further the conversation with his guest on where racism stood in America at the time.
Baldwin, born in 1924, was fascinated with the movies from a young age. As a seven-year-old boy growing up in Harlem, he saw Joan Crawford in Harry Beaumont's Dance, Fools, Dance and recalls that a neighbour of his looked just like the star on the screen. A scene from Mervyn LeRoy's They Won't Forget (1937) with the actor Clinton Rosemond as the terrified janitor made a big impression: "The film's icy brutality both scared me and strengthened me." It was the first time a person in a film he saw resembled his father.
A clip from John Ford's Stagecoach (1939) with John Wayne firing at Indians prompts Baldwin's observation on the confusion of whom to identify with: "My countrymen were my enemy. I suspect that all these stories are designed to reassure us that no crime was committed. We've made a legend out of a massacre."
Years later, at a Cambridge University debate in 1965, James Baldwin gives his personal account of the impact films had on him as a young man. "It comes as a great shock around the age of five or six or seven to discover that Gary Cooper killing off the Indians - when you were rooting for Gary Cooper - that the Indians were you. It comes as a great shock to discover the country which is your birthplace and to which you owe your life and your identity has not in its whole system of reality evolved any place for you."
Important segments of interviews with Malcolm X, Martin Luther King Jr., and James Baldwin on the 1963 PBS television show The Negro And The American Promise, hosted by Dr Kenneth Clark, psychology professor at the City College of New York, give context and Bob Dylan's tribute song to Medgar Evers, Only A Pawn In Their Game, is shown performed in DA Pennebaker's Don't Look Back.
Sidney Poitier is highlighted in scenes from five films: Joseph L. Mankiewicz's No Way Out, opposite a raging Richard Widmark; in Stanley Kramer's The Defiant Ones, shackled to Tony Curtis; Daniel Petrie's A Raisin In The Sun, written by Lorraine Hansberry (who had a disastrous meeting with US Attorney General Bobby Kennedy); Norman Jewison's In The Heat Of The Night in, as Baldwin alludes to, as close to a love scene as it can get with Rod Steiger, and Kramer's Guess Who's Coming To Dinner.
James Baldwin views the struggle of the country of his birth to be an internal one. "I have always been struck in America by an emotional poverty so bottomless and a terror of human life, of human touch, so deep that virtually no American appears able to achieve any viable organic connection between his public stance and his private life. The failure of the private life has always had the most devastating effect on American public conduct and on black-white relations. If Americans were not so terrified of their private self, it would never have become so dependent on what they call 'the negro problem'."
He makes the distinction between a witness and an actor, rage versus terror along the colour line, and explains how the American affinity for simplicity and sincerity results in the fact that "immaturity is taken to be a virtue too." On being a witness: "I was to discover that the line that separates a witness from an actor is a very thin line indeed. Nevertheless the line is real."
In 1948, disillusioned with America, Baldwin had moved to France. It was the picture of 15-year-old Dorothy Counts in 1957 going to school in Charlotte, North Carolina, that was on the cover of all the papers in Paris that made him come back. Surrounded by an aggressive mob that protested the attempt at school desegregation, the girl stood alone. Baldwin felt ashamed: "Some one of us should have been there with her." He could no longer stay in exile and was ready to pay his dues.
Gary Cooper waltzing with Audrey Hepburn in Billy Wilder's Love In The Afternoon, palm trees in the sun, the school shootings in Gus Van Sant's Elephant, slave auction prices, Doris Day singing for her lover to come back, photographs of lynchings - there is no unifying, comforting American narrative. Peck's I Am Not Your Negro makes sure that the storytelling that pretends there is one for all, is exposed as a lie. The way back into a celebration of ignorance becomes more difficult, or does it?
"I am terrified at the moral apathy, the death of the heart which is happening in my country. These people have deluded themselves so long that they really don't think I'm human. And this means that they have become, in themselves, moral monsters," Baldwin feared to the end.
Reviewed on: 19 Feb 2017
Share this with others on...