Eye For Film >> Movies >> I Am Big Bird: The Carroll Spinney Story (2014) Film Review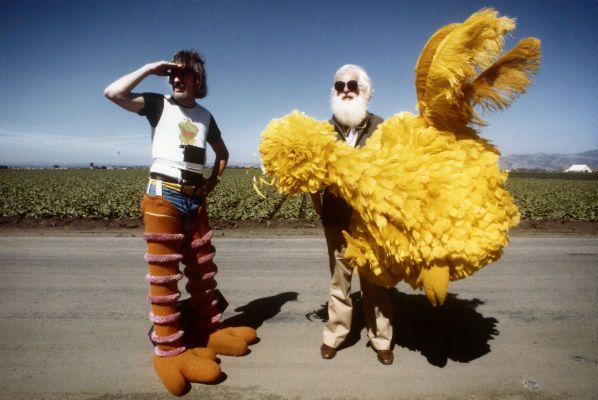 "It was like seeing my child raped," says Carroll Spinney. It's a shocking image and not, frankly, the sort of thing you'd expect to find in a documentary about the man behind - or rather beneath - Big Bird and Oscar the Grouch. Unfortunately, it proves typical of the hyperbole that infects much of Dave LaMattina and Chad N Walker's film.
The offending incident turns out to be a student jape that saw Big Bird have some of his feathers pinched for a giggle - hardly the stuff of nightmares. That Spinney might have made the remark in the heat of the moment is one thing but the filmmakers' decision to include it speaks volumes about their intent to try to milk every moment of his career for drama, when a much more low-key approach would have suited a person who is obviously a dedicated but low-key guy.
Funded partially through a Kickstarter that was no doubt helped by the success of Constance Marks' Being Elmo, it never reaches the same heights. Where Being Elmo balanced the personal story of puppeteer Kevin Clash with the craft of operating a his little red muppet, I Am Big Bird spends too much time trying to wrench drama out of Spinney's tough childhood - not to mention its borderline exploitative mention of a murder that occurred on his property - when its most interesting moments lie in describing the intricacies of working Big Bird from within. There is no doubt Spinney had a close friendship with Jim Henson - his singing, in character, at Henson's memorial service offers one of the film's most honest moments of emotion - but the tributes play out in the manner of a gushing DVD extra, each person trying to layer on more praise than the next.
The archival footage is well-edited by Walker and there are a few insights into Spinney's life and desire to keep on working despite hitting his eighties, but his enthusiasm just isn't enough to sustain this 90-minute exploration on its own.
The overall effect, drenched by Joshua Johnson's unnecessarily surging score, is far too portentous for its own good, leaving you longing for the bright and breezy fun of Big Bird rather than this solemn navel-gazing alternative.
Reviewed on: 03 May 2015
Share this with others on...