Eye For Film >> Movies >> Hotel Transylvania 3: A Monster Vacation (2018) Film Review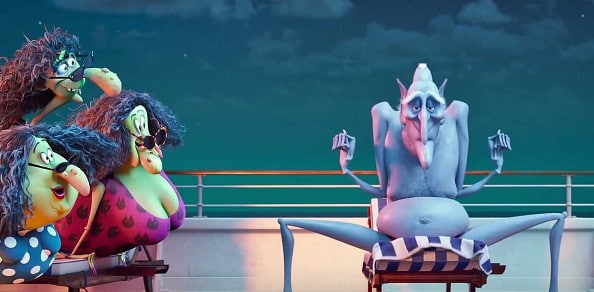 If you have been to the hotel before you know what the staff is like. They want to make nice but usually make a mess. It's not personal.
There is no monster discrimination here. Humans and vampires live together. Drac's daughter Mavis is married to ginger-haired Johnny, a human on the laid back side of silly, and they have twins whose best friend is a giant puppy. She takes her responsibilities seriously, especially when it comes to the Prince of Darkness.
The vacation is her idea and she signs up for the family and their so-weird-they're-wonderful friends with Monster Holidays which is run by the last of the Van Helsings, although Mavis doesn't know this at the time. Ericka, the captain of the cruise ship that will take them to the Bermuda Triangle, the underwater volcano and eventually the casino at Atlantis, is the great granddaughter of the original vampire slayer who still runs things from his mechanical geriatric device.
The plot flies in and out of lunacy at gasp speed. Drac falls for Ericka. Ericka wants to kill Drac. Mavis, the protectess, is slow to catch on. Johnny the DJ demonstrates the power of music. Old man Van H attempts to drown his sounds with evil ones. The monsters in the Transylvania party are having a ball. Atlanta is Las Vegas undiluted.
Nothing makes sense and yet everything does. This is about love, what they call zing, and it's about enjoyment, the flip side of bored, and looking at life through different eyes.
You don't have to be a Trans groupie to enjoy 3 although it helps because the human/vampire intermarriage has happened. Mavis and Johnny are together. They have kids. One is the spit of his dad, the other looks like a raccoon pup.
Ericka is not only human, she's a Van Helsing. Drac is too infatuated to know what he's doing. Mavis has a bad feeling and tries to warn him while Ericka's great grandad invents machines to evaporate the aristocratic hotelier forever.
The voice cast is pitch perfect and the animation ingenious. The monsters are not simply the oddest balls in the basket, they have lives outside their monstrosity. The creative team takes care of every detail. Noone is left behind.
Drac's moves dazzle on the dance floor as big puppy and the kids crash out on cute. At the end you ask yourself, why was I laughing so much?
As Johnny plays Don't Worry, Be Happy in the battle of the tunes, you know.
So much is good.
Reviewed on: 26 Jul 2018
Share this with others on...