Eye For Film >> Movies >> Hell Or High Water (2016) Film Review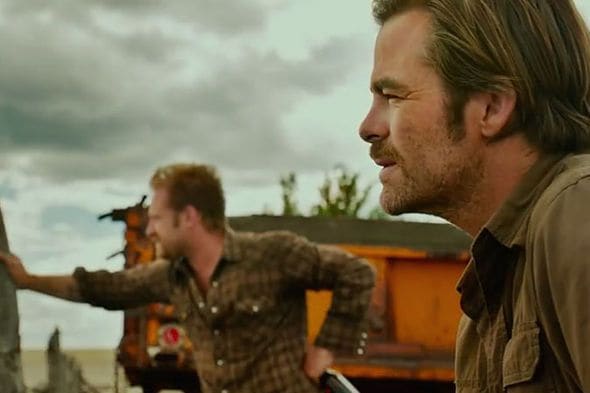 With so many films emanating from the Democratic urban sprawl of America, where life seems to come with a perfect apartment and a lime twist, it's easy to forget its flipside. David Mackenzie and Taylor Sheridan's film takes us to the sun-cracked, open-sky Republican heartlands of West Texas, where a quick glance at the horse tied up at the local petrol station tells us that if time has not exactly stood still, habits and customs from the past have no intention of being muscled out by high-falutin' modern ways.
Blending Western elements with the thrill of a hard-boiled cops and robbers tale, Mackenzie and Sheridan introduce us to brothers Tanner and Toby Howard (Ben Foster and Christ Pine) on a sleepy morning in a podunk town, Mackenzie's camera gliding through the low-rise buildings, whose distinguishing features are dust, Iraq protest graffiti and crosses. They're here to rob a bank, although the reasons for this – and why they take so little in terms of cash – are craftily hoarded by Sheridan for a while, layering in an element of mystery to the action. The first heist tells us all we need to know about them in terms of character. Tanner, with an enjoyment of freedom and open spaces that can surely only come after a stint in jail, is impetuous, while Toby, a dad of two who hasn't seen his boys in a year, just wants to get the job done right, and one over the man, for once.
Making up the other side of the coin is, of course, the law man. Jeff Bridges' Marcus Hamilton is lent a pleasing genre-familiarity, in that he is on the brink of retirement with a laidback doggedness that hints at a showdown to come. But while Sheridan's characters may initially seem by be cut from familiar cloth, he soon starts to fray them at the edges. Hamilton's relationship with his Mexican/Native American partner Gil Birmingham (Alberto Parker), for example, dances on the brink of racism, yet masks a deep comradeship that lies beneath.
The 'bad guy' really is the bank itself – or maybe the American Dream, a frothy notion that never had much currency round these parts and is now bankrupt in the face of a recession and an ageing population that are losing their heirs to the call of progress. All the genre elements are here, including a modern-day posse, but Sheridan laces them all with a sly modern twist, nudging us to see how lawlessness can spring from failure of governance. And, while Mackenzie – ably abetted by DoP partner in crime Giles Nuttgens – makes sure the action scenes carry physical clout, Sheridan pays attention to his bit-part characters, fleshing them out so that we care, even if they are only on screen for a few minutes. Best among them are diner waitresses at either end of the age spectrum – Katy Mixon as a flirtatious server who is shown to have balls of steel and veteran Margaret Bowman who dead pans her way through an order of T-Bone steak, which is funny precisely because it feels so authentic. The tragedy for everyone here lies, perhaps, not in reality but in daring to dream of something better.
Reviewed on: 26 Feb 2017
Share this with others on...