Eye For Film >> Movies >> Fruitvale Station (2013) Film Review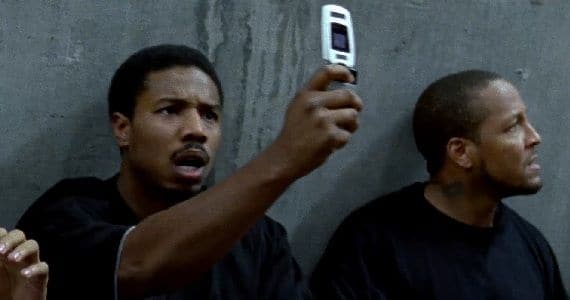 Made for less than a million dollars, Ryan Coogler's debut film is a moving exploration of the real-life story of a young black man killed by a white transit police officer in the early hours of New Year's Day in 2009.
Oscar Grant, who was 22, lived in the Oakland area of San Francisco until the incident on a subway platform which was little known apart from among his immediate family, friends and neighbours.
Coogler examines the last 24 hours of his life which builds in to a portrait of middle-class Afro-American life and mores. Grant was no saint - he had already served two prison sentences and seemed to fall easily in to the wrong crowd at the wrong time.
Although he has a wife (Melonie Diaz) and supportive mother (Octavia Spencer) as well as being father to a four-year-old daughter Tatiana (Ariana Neal), he cannot keep a job and seems reluctant to face up to his responsibilities.
The film takes an even-handed view of its main protagonist, illustrating faults on both sides of the divide. It certainly pulls on the emotions but who could fail to respond to the fate of a young man whose life is cut short just when it seemed he might be getting his act together. It was a pointless tragedy that should have been avoided.
The film may not be perfect but it has arrived at a pertinent moment in the debate over racism, gun violence and the killing of young black men, and has made a significant impression.
Grant was lying on his stomach and was handcuffed when the officer, Johannes Mehserle, shot him in the back. Mehserle said he intended to reach for a Taser and shot him by mistake. He was convicted of involuntary manslaughter and sentenced to two years.
Since its Sundance debut, Fruitvale Station has been picked up by the Weinstein Company, which ensured it was widely seen in the US and even has started an Oscar buzz. It deserves all the attention. Meanwhile Coogler revealed in Deauville that he and Jordan are due to team up again to make Creed, a spin-off of the Rocky saga in which the grandson of Apollo Creed, Rocky's rival and friend, takes up the gloves.
Reviewed on: 08 Sep 2013
Share this with others on...