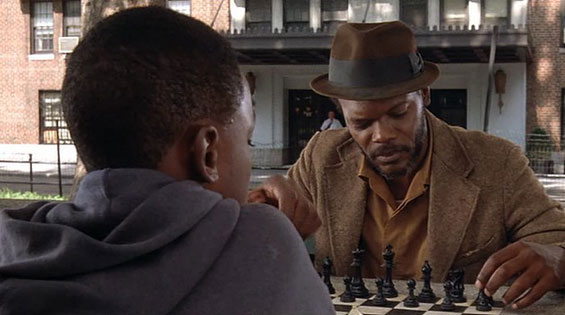 "It was like the sun was shining indoors," Esteban (Giancarlo Esposito) says of a teenage girl. He could have been describing the film.
Boaz Yakin's debut is so assured and individual, it clears away debris from those better known in the 'hood to create an authentic work of genuine quality. First-time writer/directors like to pay homage with a scene or a line to their mentors as a gesture of respect. Yakin doesn't do this. He's like Scorsese with Mean Streets, fully formed, already breaking new ground on the old scuffed turf.

Fresh (Sean Nelson) is 12, living in the projects with his 11 brothers and sisters. His father (Samuel L Jackson) stays in a trailer at the back of some waste ground and spends his days playing chess in the park. He's a hard taskmaster, teaching his son the psychology of success.
"Everything lost can be found again," he says. "Except time wasted."
Chess is Yakin's metaphor for life in Brooklyn. Survival has no gift wrap. Everybody needs a plan.
Fresh runs for the dealers. He's smart and careful, watching the way operators handle their merchandise and treat their crew. Crack and smack have separate outlets. Esteban specialises in the classic core base - heroin.
"It's like banking," he tells the kid. "Only it's more secure."
He's a dresser, a ladies man, who has a bad thing going with Fresh's junkie sister.
What seems at first to be an insightful tale of a black boy's extra-curricular activities in a dangerous milieu, sensitively photographed on location, using the lacerating language of a vandalised vocabulary, evolves into something that sits well in the higher echelons of the Hollywood thriller tradition. There is a difference, however, and it's not simply to do with money. Yakin doesn't lie. He doesn't abuse his sources, nor does he exploit the New Jack City approach to the subject. His actors are dead on line, alive at the wire. There isn't a breath that feels forced. Fresh takes the cliche of a slum kid, who uses his intelligence to contest life in a killing war on Treachery Boulevard, and makes it look different.
He makes it look valuable.
Reviewed on: 20 Dec 2005
Share this with others on...